Start your new Hong Kong company, ALL ONLINE & remotely
HONG KONG company formation and registration for $699,
Startupr is trusted by over 22,000 companies.
REGISTER COMPANY NOW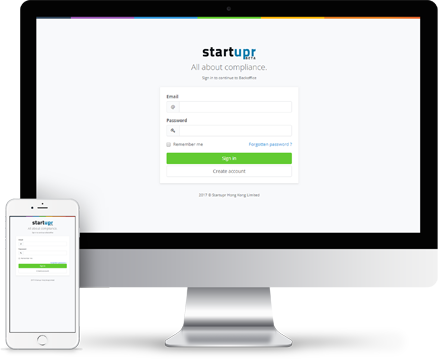 COMPANY NAME CHECK
Check your company name and set up your company in a few hours.
Forming a company in Hong Kong is fast and completely digital
The process is 100% digital and online. Your e-documents can be provided very quickly via our reliable system.
Complimentary Services – Free-Of-Charge
Registered office plan – use our address for registration purpose
Free Bank Account Guidance (DBS Bank Application)
E-Company documents – Incorporation documents as Business Registration certificate, Certificate of Incorporation etc.
Business documents – NDA, Employment Agreement, etc.
Compliance alert of your company – Never miss an important filing date again
Business Tax Consulting
Company Compliance Guidelines
Capitalization Table in Eqvista.com – Shares management platform
Equity Management Guidelines
Customer support*
Start Company Your Way
Trusted by tens of thousands, Startupr powers entrepreneurs and companies all over the world.
Explore which option is right for you.
DIGITAL
$699 USD
Government fee and Digital Documents included
---
Everything in a digital set to get you started!
---
Appointment Of startupr As Your Company Secretary
Registration At The Companies Registry
Digital Set Of Incorporation Documents
Registered Address
Completely Fast & Digital Payment Account Application
Manage and maintain your company shares using our App, Eqvista!
Free consulting and unlimited support (use knowledge of our auditors and consultants)
Free Bank Account Guidance (DBS Bank Application)
CUSTOMIZED
$1394 USD
Government fee and Digital Documents included
---
Everything in a set to get you started & more!
---
Includes ALL Items From The Digital Package
Registered Office Address & Mail-Forwarding Services
CPA-Certified Company Documents
Professional Accounting & Tax Advice
Customized Solution
HONG KONG company formation and registration
When you choose Startupr as your agent to complete the whole process, our prices are very reliable and reasonable.
Check out our fees structure here:
Startupr Incorporation – Free of charge
Startupr supports new companies – Get $136 Off
Registered Address – Free of charge
Startupr as an Agent/Company Secretary – $285/1 Year
Designated Representative – Free for the first year
The government Fees Include:
Hong Kong Government Incorporation Fee – $550 (CR Incorporation and IRD – Business License)
Filing of Annual Return and e-Certificate (NAR1) – Free for the first year
Advantages of Setting Up a Hong Kong Company
Hong Kong is
Recognized Globally
Hong Kong is
Recognized Globally
If you are looking to expand your assets outside of your country, investing in Hong Kong is a great way. HK is considered as the most trustworthy, reliable and safest global city for starting a new business. Also, it is much easier to transfer money into different currencies because banks in Hong Kong are used to handling various currencies efficiently.
Affordable
& Convenient
Affordable
& Convenient
Establishing a company in Hong Kong is much easier than you may think. You can be from any nationality in the world to be the company shareholder and director, and don't need to be a Hong Kong citizen. By setting up a company in Hong Kong, you can save a lot on set-up costs. We can assist you in scheduling your bank interview and documentation preparation.
No Physical
Address Required
No Physical
Address Required
You do not need a physical address to form a company in Hong Kong. Instead, you can look for various services that can help you in setting up a registered address. When you choose us, you can use our registered address and save. With the use of Startupr's registered address, we can notify you once we receive any letters from the government for your company.
Lower Tax Rate For Transactions Outside HK
Lower Tax Rate For Transactions Outside HK
If your transactions are outside Hong Kong, you can apply for tax exemption status from the IRD and once the accounting is audited, Startupr will submit the tax exemption query letter to IRD. Our success rate for tax exemption status is as high as 95%. By forming a company in HK your taxes will be as low as 16.5% or 0% if you're exempted from the taxes by IRD for offshore activities.
Sound Banking
System
Sound Banking
System
Hong Kong has the best banking services with no exchange control. This means little restrictions for transfer limits from the banks here in Hong Kong. Your company's fund can freely be transferred and which provides a safeguard for international trade. At Startupr, we can help you in fixing a meeting with your chosen bank manager.
International
Trade
International
Trade
Hong Kong is located in the heart of Asia, and acts as the gateway to Mainland China for international business, while enjoying a separate taxation and legal system. Also, it is a financial hub and key regional trade center, ranking high for foreign investments and as the headquarter for international business in Asia.
Yearly Requirements
Annual return (NAR1). It includes the list of directors & officers. It must be filed within 42 days of the anniversary of the first registration date.
The initial annual audit must be submitted within 18 months after incorporation date.
The Business Registration Certificate needs to be renewed one to three years post-incorporation, which depends upon the Certificate issued. Make sure that the renewal must be one month before expiration.
IRD (Inland Revenue Department) tax filing for recently incorporated companies comes due 18 months after the incorporation date. After that, the company will need to file annual audit reports and tax filings to the IRD.
An AGM (Annual General Meeting) needs to be held at a time and place the directors announce within 18 months of incorporation.
Set Up Your Company in the Same Day
Ideally, the e-Certificates for companies limited by shares are issued within 1 hour after the delivery of expected papers at the e-Registry. But when the application is delivered in the form of Hard Copy, normally it takes three to five working days to complete the entire process.
Are you in a hurry to set up your company in Hong Kong? With Startupr, you can get it done in the same day! If we receive your payment and order before 10 A.M. HK time, we prepare within the same day by 5 pm HKT, submitting directly to the Hong Kong Government Companies Registry Office through our unusual and amazing Same Day system. Under normal conditions, we send you an official e-mailed e-documents, which includes your Business Registration and Incorporation Certificates, along with your new Company Number in less than 2 hours. And from that point on, you're in the business!
Why Choose Startupr?
So if there are many companies providing you the same facilities as we do, why should you prefer to choose Startupr?
We are very prompt and quick
Our unique same day check system ensures that all the information is checked on the same day as it is entered in the form. After that, our system sends your data automatically to the Hong Kong Registry Forms and is submitted to the government portal.
We offer affordable rates
Due to the efficiency of the system, our rates are comparatively lower. We communicate directly and clearly with our International clients in a reliable way. Our services are not only limited to our offices; they go beyond our offices. The prompt and orderly arrangements leave you more time for your own business,.
Advanced Technology
Our separate Online Backoffice System helps you keep track of your company's details and required annual filings, all in one place. We will continually work to develop our system and keep you up to date with any new developments.
Feedback always welcome
All your feedbacks and suggestions are welcomed at info@startupregistry.hk, and we try our best to put them into practice. We will be happy to assist you with any question!
We have lots of experience!