Hong Kong has emerged as a perfect spot for startups, and having a strong brand here potentially means having a successful business. Branding is the key to forming a professional image for the startup in Hong Kong. If you want to be victorious in the competitive market of Hong Kong, then portraying the goals and objectives of your startup can be the deciding factor for the success of your startup. 
Hong Kong startup branding can be done in several ways. There are a plethora of proven strategies to build your Hong Kong startup brand. If you want to gain knowledge of these strategies, then you have found the right article. This article will furnish you the complete information about startup branding for Hong Kong startups. If you leave this article, then you might miss the opportunity to build a strong startup brand. Therefore, if you want to make your brand from scratch, then there could be no better article than this one. 
What is the importance of branding for Hong Kong startups?
Branding is among the most significant parts of a startup. It can severely change the image of the startup and modify the perception of the customers. The competitive market of Hong Kong demands uniqueness, and strong branding can help you in presenting the unique side of your startup. Moreover, branding is also very helpful in building trust and credibility, which might increase the chances of getting investments and funds into the startup. If you have a strong brand image, then you can price your products and services at premium rates. Additionally, having a positive brand image and a trusted brand impression also assists in expanding the range of business internationally.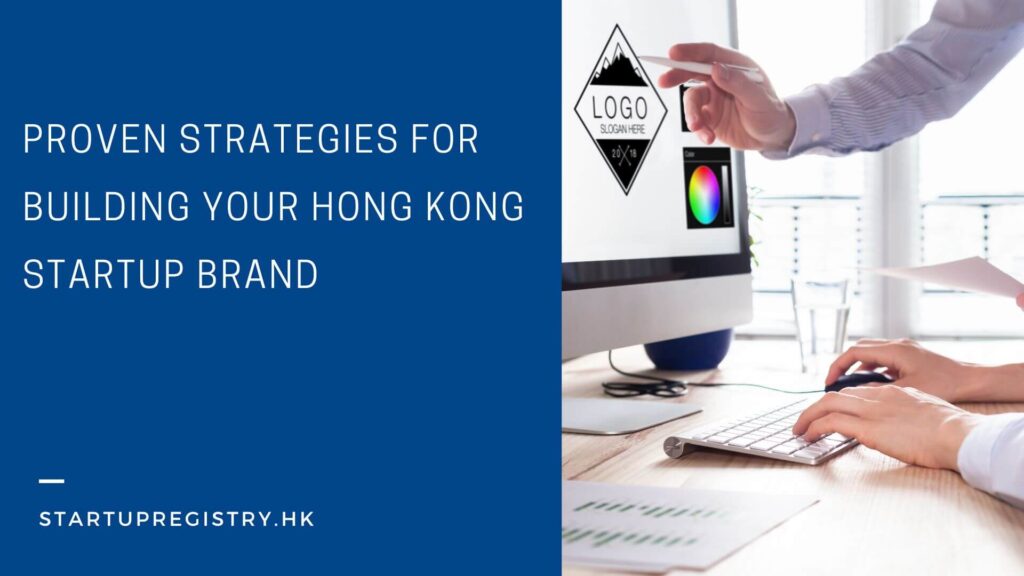 Strategies To Build Your Hong Kong Startup Brand
Here is a list of top branding strategies for branding that can help you build your Hong Kong startup brand.
1. Defining Your Brand Identity
It is extremely important to define your brand identity to grasp the attention of the customers and investors. Brand name, logo, slogans, social media presence, taglines, online content, story of the brand, visual identity, and product presentation combine to form the core elements of a startup's brand identity. These core elements help in boosting the engagement of the startups. The next step to defining your brand identity is crafting a unique value proposition (UVP) and positioning statement. UVP refers to clarifying the audience you are targeting, the solutions that you provide, the originality of your work, and the benefits of using your products. UVP should be short and precise and define your services in a single sentence. On the other hand, position statements must describe what category of services you provide, the benefits of working with you and what competitive advantage you offer to your customers. You should use the kind of language that better resonates with your target audience. If you successfully identify your target audience and understand their needs, then you can alter your products and services according to those requirements. 
2. Market Research and Competitor Analysis
The next strategy is to conduct thorough market research in Hong Kong to get the essential information in the initial stages only. A detailed market analysis helps you in gaining knowledge about the market, its norms, and your competitors. Market research allows you to analyze the needs of the market and how you can fulfill those needs. Competitor analysis is another aspect of market analysis. It gives information about the solidities and shortcomings of your competitors. Once you are aware of their powers and vulnerabilities, you can make modifications to your business model and products so that your products perform better in the market in comparison to their products. Market research and competitor analysis are extremely handy in identifying gaps and opportunities for differentiation in the market. It helps you to bring out your uniqueness in the market. 
3. Creating a Memorable Brand Name and Logo
Brand name and logo assist you in building your startup brand. The brand name you choose should define the products and services you offer or the goals and objectives of the startup. Another thing that you should consider while choosing a brand name for your startup is that, the brand name you choose must resonate with your audience. Logos also have a great impact on the customers. You must design a logo that is unique and visually attractive. The logo should be versatile, which means it should look good in all sizes and colors. The logo you are designing should be connected to your startup and its values. You must ensure the brand name availability and legal system before choosing a name for your startup. You must choose a brand name which any other company is not already using. You must also take legal considerations into account to avoid any penalties or trademark conflicts. 
4. Crafting Consistent Visual Branding
Visuals are a common factor that influences the thinking of customers. The visuals you are creating should be consistent and attractive. Select a cohesive color pallet for the visual branding. The colors you choose for visual marketing have a significant impact on the customers. The colors you select should represent the values and mindset of the startup. Similarly, typography is another factor that influences customers. The typography you are using for branding should align with the personality of the startup and enhance its readability. Developing brand guidelines is exceedingly important for consistent visuals. These guidelines ensure that everyone involved in creating visuals for the startup follows the same style and composition, which improves visual consistency. You must infuse brand elements across all touchpoints. This means the brand name, logo, and tagline should be reflected in anything related to the startup, including your website, social media accounts, packaging, marketing, and business cards. 
5. Developing Brand Messaging
Brand messaging is a combination of several acts, which include a compelling brand story and narrative, a clear and concise elevator pitch, and communication of the mission and brand values. An effective brand story helps you to emotionally connect with the target audience and fosters trust and credibility among the customers. The brand story should contain the origin of the startup and its values to make it relatable to the audience. Craft a clear and concise pitch to convey your message in an explicit manner and short time. Your pitch should contain the services you provide, your values, and your missions. If you can communicate your brand values and missions effectively, you can make your brand memorable for the customers to remember forever.
6. Building an Online Presence
Building an online presence is a critical part of building your Hong Kong startup brand. An online company can be produced by making a website and utilizing social media platforms and digital channels effectively. The website you create should be professional and user-friendly. It means it should contain complete information about the brand and should also be easy to use. The social media accounts you establish should be consistently active and engaging. The content you upload on your funds should be appealing to the customers. Digital channels are very effective in showcasing the brand personality. You can make use of digital media to portray the character of the brand, its goals, and its ideals. 
7. Content Marketing and Thought Leadership
Content marketing and thought leadership are two interconnected strategies for startup branding. The process of reaching the customers using your content is termed as content marketing. The content you deliver should be valuable and relevant to the audience. The content you create must be informative, problem-solving, and could be able to gain the trust of the audience. Demonstrate your expertise and thought leadership in the industry through your content. The content you are creating should represent you as a go-to body for experience and knowledge of the industry. You can utilize blogs, videos, and webinars to build credibility in the market. Videos, blogs, and webinars are the perfect means of content marketing.
8. Leveraging Influencer Collaborations
Influencer collaborations can assist startups in expanding their range of audience. Identifying local influencers and industry experts can be useful in gaining the interest of local customers. Recognize the influencers who have a hold of a reasonable audience and who have a trusted and positive image. You can collaborate with industry experts to tap into their large customer base. Building strategic partnerships with these experts can be extremely helpful in enhancing brand exposure. These partnerships are very beneficial for improving the engagement of the startup, creating a professional image, and attracting investors and customers to the startup. 
9. Measuring Brand Success
Lastly comes measuring the brand's success. You can make modifications to your startup by using the essential information that will be obtained by measuring the brand's success. Defining key brand metrics and performance indicators is a very critical part of brand success measurement. It includes brand awareness, conversion rate, and social media engagement. Measuring these indicators adequately gives you the ability to make informed decisions. You can measure the brand success by using analytics to track brand awareness and perception of the customers. These analytics assist you in gathering information from various channels, including website traffic and social media engagement. Once the information is collected, a clear picture of the performance of the startup surfaces. Finally, after you collect all these insights, you can iteratively refine brand strategies based on the insights. These improvements in branding strategies might lead to the success of the startup. 
Ready to take your Hong Kong startup to new heights? Partner with Startupr!
Being a global business hub, establishing a thriving startup in Hong Kong could be a challenging task. So, to stand out in the competitive landscape of Hong Kong, branding your startup becomes exceedingly important. Therefore, if you want to successfully build a Hong Kong startup brand, then follow the tips as mentioned above for startup branding in Hong Kong. The above-provided strategies are proven and are being used widely. 
If you feel ready to take your Hong Kong startup to new heights, then partner with Startupr. Startupr is a highly trusted company that can help you establish your startup in Hong Kong. Startupr has thousands of delighted customers who have shown faith in the services of Startupr and reached new heights. If you choose Startupr as your partner, then you can focus on growing your brand rather than being worried about the monotonous administrative work.