During the registration of a business in Hong Kong, all companies are required to have at least one director on the board at all times. Since board members choose to remain anonymous, they hire nominees' services to meet this requirement. These services provide them with a nominee director for the business. 
A nominee director is used for hiding the actual director's identity from the records and has strict non-executive roles. The provided nominee director will act as the replacement of the real director of the business who chooses to be anonymous. The actual director will still take forms of risk and direct involvement. This article will tell you more about a nominee director in Hong Kong and what it takes to be one.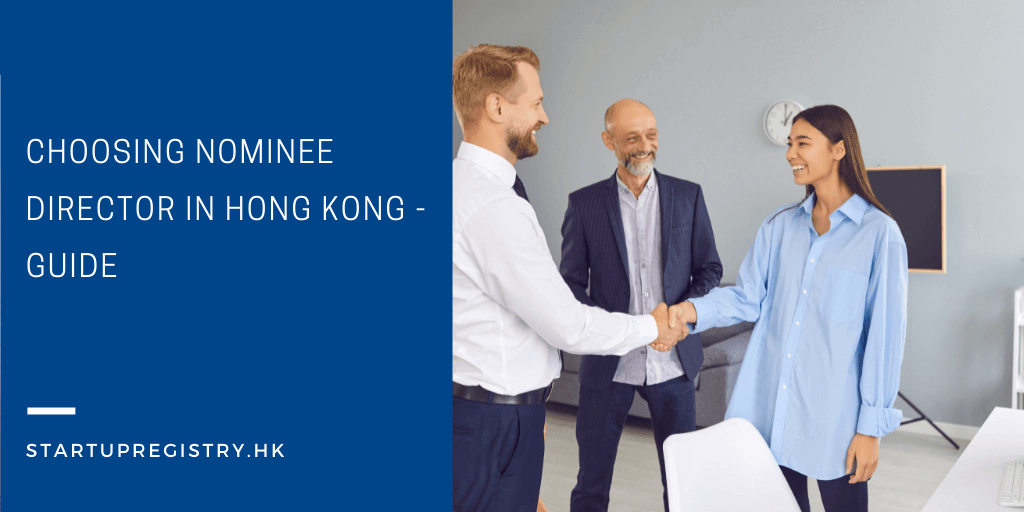 Nominee Director Hong Kong
Hong Kong requires a business to have at least one director during the process of formation. To fulfill this criterion, there is an option of appointing a nominee director. A nominee director is a non-executive director appointed to protect the identity of the actual director. Those who want their identity to be concealed and remain confidential prefer to use this option.
Nominee director in Hong Kong – Overview
In Hong Kong, a nominee director is a non-executive director appointed to conceal the identity of the actual director. The nominee director can replace a financial institution or even an investor. In some cases, a separate business can hold the position of a nominee director but this is not advisable. But, some investors prefer to keep their investments confidential and hire a nominee company that provides them with nominee shareholder services. This will not be the ideal approach to nominating a nominee director, but still, some people are comfortable doing it. 
One of the essential requirements for the appointed person is to be a citizen or permanent resident of Hong Kong or have an Entrepass work visa. Since such individuals are hired to represent the business, they must exercise professionalism. They have to do what is best for the company, assisting it in reaching its goals.
Why appoint a nominee director in Hong Kong?
The whole idea of having a nominee is to hide someone's identity. There are numerous reasons why an investor in Hong Kong would like to keep their identity confidential. But, a certain level of transparency is expected as it is illegal to be entirely concealed when you form a company in Hong Kong.
Investors choose nominee director services because of the high level of confidentiality and privacy that it provides the board members. Another reason foreign investors select a nominee director in Hong Kong is taxation. Depending on their country of origin's laws, there is a big chance that they will lose a significant part of their income to tax. The use of a nominee director in Hong Kong can prevent this loss.
Duties of a Nominee Director in Hong Kong 
A nominee director can only perform the activities that they have been given the responsibility to or specifically instructed to do by the owner of the Hong Kong business. The main duties of a nominee director are: 
Entering Agreements
Managing business-related issues
Opening and handling of Bank accounts
Managing the Debt
One of the most significant responsibilities of a nominee director is to provide the business director privacy and keep their information confidential. But it is essential to state that this is not done to negate or avoid the risks and liability of the actual director. It only hides the information of the real director from public records and not from government records and authorities. Therefore, it is advisable that you do not hire a third party as one will directly point the risks to you. 
The appointed nominee director cannot make any decisions related to the business and cannot act on their terms. Before the nominee director decides, he must consult the actual director based on what he is allowed to do and ascertain his following action. In specific cases, the nominee can permit the director to sign all the essential documentation and agreements and make operational business decisions. In this case, the nominee director in Hong Kong becomes a representative or an agent of the company.  
Most businesses in Hong Kong hire nominee directors and let them have a role in the management actively. By giving nominee directors duties, they can fulfill most of the tasks of the business director. The third-party (nominee director) has permission to sign contracts and agreements, make essential decisions, and manage and open company bank accounts. But, it is not advisable to hire a third party as a nominee director. This is because the third party can not manage dividends as the income from dividends is transferred straight to the beneficial owner.
Pros and Cons of Appointing Nominee Director
Many investors prefer to appoint a nominee director depending on their preferences. But selecting a nominee director has its pros as well as its cons. Here are some of them:
Pros
Using a nominee director is beneficial for those investors and business owners who do not want to disclose their investment portfolio. They take advantage of the privacy and confidentiality that comes with the option. Hong Kong is famous for being an offshore jurisdiction, but not in its entirety. For company formation, the city requires that a certain level of disclosure and transparency be maintained.
Another reason that directors choose this option is taxation. Such is true for foreign investors. According to their country of origin, income earned from businesses in Hong Kong can be taxed heavily. Foreigners who invest in Hong Kong hire a nominee director to avoid such taxation laws of their country.
Cons
The main downside of hiring a nominee director is that the actual director who works from the shadows will have a hard time proving that they are the real owners of the business. Since some directors do not sign on documentation as they believe it can affect them, they do not have hard evidence of their ownership.
Suppose any investor or company engages in such risky ventures. In that case, the nominee director services agent won't permit them to sign any documents leaving them vulnerable. This is why if you choose to have nominee director services, make sure that the agent is willing to sign all the essential documentation before you hire them. It is advised to appoint their staff/or a person as a Nominee, but we don't suggest having a third party. A staff person is easily approachable and can be of use in vulnerable situations.
Why don't we recommend appointing a nominee Director? 
It is extremely difficult to open a bank account with the nominee structure and it may have some more legalities and account holdings that can't be handled easily. Banks need to know the UBO (Ultimate Beneficial Owner) and in case you replace yourself with a nominee you're expensing your company to the risk of not receiving a bank account.
Ready to Form Your Business in Hong Kong 
Hong Kong is one of the best places in the world to start a business. Starting a business is reasonably simple and quick, setup fees are inexpensive, and the whole atmosphere promotes growth.
When starting a business, the first step is to choose the appropriate business entity. The entity must be based on your company's aims and objectives. After you've decided on a business structure, you'll need to come up with a name for your organization. You must appoint officers before you can establish your company because the registration process requires you to supply their information. You will need to register your firm in Hong Kong with the Companies Registry, which is in charge of company incorporation.  If you need any assistance in setting up your business, feel free to contact us.