When you start operating your company activities, you may hear the terms bookkeeping and accounting thrown around. There must be many times when you will also hear these two terms used almost interchangeably. However, there is a difference in bookkeeping and accounting in the business firm.
Small businesses may have different functions in both areas, but they are synergistic. Accurate, up-to-date accounting and bookkeeping are the backbone of any successful small business. This article will give you proper insight if you are not sure how bookkeeping and accounting work for businesses.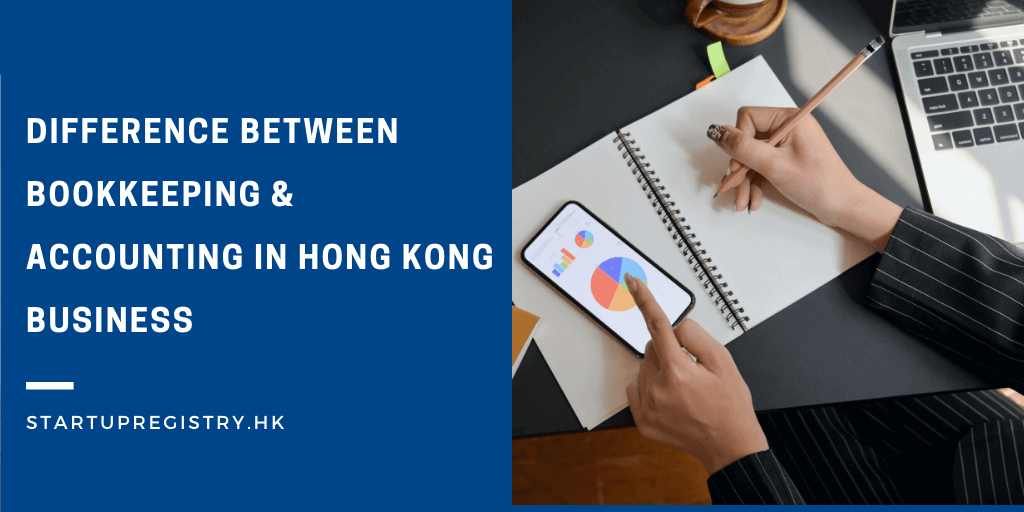 Bookkeeping for Hong Kong Business
It doesn't matter which type of business you are operating; understanding the concept of bookkeeping is essential. In this way, you can keep the flow of your business smoothly, now and in the future. If you are thinking about setting up a business in Hong Kong, here bookkeeping plays an important role in operating the business.
Under the Hong Kong Inland Revenue Department, or IRD, it is important to maintain adequate records of your business entity. In fact, these records are needed to be retained for at least seven years from the date of the transaction. If you are unable to maintain the company's records, you and your company may be liable and subject to a penalty, in some cases.
With the help of Bookkeeping services, it will be even easier to keep your records organized and have better time management. Discover the different options available to you, and why it's so important to keep detailed financial records.
What is bookkeeping?
Before getting deep into the concept of bookkeeping services in Hong Kong, let's understand the definition of bookkeeping. In simple words, bookkeeping is the art of recording and organizing all the business entity's financial transactions. It is the responsibility of bookkeepers to set up the financial statements so that accountants can perform legal and tax management effectively.
Generally, companies record their transactional statements on a day-to-day basis. But you can also complete it at the month-end, once all the documents and transactions have been gathered. The transactions can be recorded in the form of expenses, bank statements, sales receipts, payments by the corporations, and other business transactions. That's why it is advisable to maintain all the financial records properly when you start operating your business. This could help ensure that all the business's financial transactions are recorded, up-to-date, complete, and correct without any major errors.
What do bookkeepers actually do?
The bookkeepers' main job is to gather, organize, and file every tiny detail related to the company's finances. It is somewhat the accounting part that is more concerned with the collection and organization of the financial documents. A bookkeeper is in charge of compiling:
Invoices
Bill statements
Bank and credit card statements
Receipts
Payroll records
Since bookkeeping is not only encompassing data-gathering duties, bookkeeping also includes the tasks of analyzing the numbers and making profit/loss projections. However, a bookkeeper doesn't necessarily include such types of long-term calculations and analysis. Good bookkeepers always ensure that all the transactional records and the numbers should be recorded to help the accountant make predictions about your business's future and diagnose the business' financial health.
Popular Bookkeeping methods
In order to keep all the business accounts organized, complying with financial reporting requirements, or even maintaining the records of the transactions, all businesses need to follow modern accounting standards. Below are some popular bookkeeping methods that you can follow to prepare the business records.
Manual Bookkeeping
The first conventional way of preparing and documenting the financial records of your business is manual bookkeeping. In general, businesses use an offline program like Microsoft Excel or Word to record all the transactions. They might also use a pen-and-paper ledger to document the transactions( income, expenses, interest, and any other cash flow items that appear in a financial report). This method is quite time-consuming because this is based on a hands-on approach. So, the chances of having errors in the record likely rises.
Online Bookkeeping Method
The next method that can be used for recording the transactions is an online bookkeeping method. It uses software that will account for all the calculations and data entry required for your business. A program like QuickBooks cloud accounting software can be used to track all the records much faster than any traditional ledger. Quickbooks offers pretty much every accounting and bookkeeping option a business needs.
Accounting for Hong Kong Business
By now, you have a better idea about the importance of bookkeeping for your business. So, now, what does it mean by accounting for a Hong Kong business? As per the rules of Hong Kong Financial Reporting Systems (HKFRS), every incorporated company is required to have a complete record of the company transactions and financial statements. And here, you would need professionals to generate and manage the financial statements and reports of your business. Startupr can help and give you an overall picture of your business. But before that, let's understand what accounting means.
What is accounting in a business?
Accounting is known for being the language of business among successful enterprises. It is the process of measuring, recording, and communicating financial information of the firm. Accounting gives business owners information about the resources and results the business achieves through its use. In general, accounting is used to prepare a record of the current financial state of the company.

Accounting Methods
What are the methods of doing accounting for your Hong Kong business? There are mainly two different methods of accounting. One is based on the cash you received, or the cash you have, cash-basis accounting. And the other one is the accrual basis accounting. Under the HKFRS and SME-FRS, companies are required to use accrual basis accounting in general, which is when the sales/costs of the company actually took place, not when the money was transferred. In Hong Kong this is important, as every company would be audited by a HK CPA.
Popular accounting software
The recent exposure of online cloud-based applications has widened the choices of selecting inexpensive and easy-to-use online accounting options for businesses of all sizes. Let's dig into the top accounting software and see what's the best one for you.
Quickbooks Online Cloud Accounting
The most famous choice in online cloud accounting software for Hong Kong companies is Quickbooks. It is the leading accounting software for small to medium-sized businesses. Let's read some advantages of using this accounting software for your Hong Kong business:
Quickbooks helps businesses get business trends reports.
It allows imported data from Microsoft Excel spreadsheets.
Quickbooks Online has a check printing option.
It accepts credit cards for payment with a paid add-on feature.
Quickbooks runs on both Windows or Mac operating systems.
Xero
Another popular accounting software that you should be aware of is Xero. It is a cloud-based software that gives detailed and comprehensive programs to small businesses and freelancers. Below are some pros of using this specific accounting software for firms:
This application is a mobile-friendly interface.
Xero offers up-to-the-minute foreign exchange rates.
Xero supports more than 160 currencies in their Large Plan.
Xero also offers the advantage of importing and categorizing all the bank statements, PayPal information, and credit cards automatically, which is a huge time saver.
Freshbooks
The last accounting software that might help you in tracking the time, invoicing, payments, and reports is Freshbooks accounting software. This application is best suited for solo business owners and freelancers who don't want to involve themselves in giant complicated accounting systems. Read the benefits of using this particular accounting software:
Freshbooks offers collaboration and team management tools.
Its fast and helpful customer support personnel are easily available via phone or email.
Freshbooks supports payments in 50 currencies and accepts payments via PayPal, credit card, and direct deposit.
Freshbooks users can track expenses, time, and billing.
It is one of the easiest accounting apps to use.
Freshbooks allows you to see when clients view and pay invoices.
Interested in Startupr bookkeeping and accounting services? Check out our pricing guide here.
How is Bookkeeping & accounting different?
Bookkeeping and accounting may appear to be the same profession to the untrained eyes. But in reality, they are both different. Even though both accounting and bookkeeping work in recording financial data, the roles of both professions are totally different. To resolve this confusion, let's read the accounting vs. bookkeeping differences below:
Definition
Accounting is the process of interpreting, classifying, summarizing, and communicating all the financial transactions of the business in the ledger accounts. However, bookkeeping is mainly related to measuring, recording, and identifying financial transactions.
Decision Making
Management can take critical decisions by going through the data provided by the accountant. But they can't consider just the data provided by bookkeepers for the financial decision of their firm.
Objective
The main objective of accounting is to get the financial situation and then communicate with the relevant authorities to resolve any prevailing issues. However, bookkeeping is used to keep all the records of financial transactions properly and systematic.
Bookkeepers and Accountants
Bookkeepers are required to be accurate in their work and knowledgeable. An accountant usually oversees bookkeepers' work. But the accountant with sufficient experience and education can obtain the title of Certified Public Accountant (CPA).
How important accounting and bookkeeping are for your Hong Kong business?
Accounting and bookkeeping are the most important functions of every business firm. In simple words, bookkeeping helps the organization to record all the financial transactions. By recording all the financial transactions, bookkeepers help the organization to know how much money is coming in and going out of the business. However, accounting aids the firms for interpreting, analyzing, reporting, classifying, and summarizing all the financial data. They offer quite comprehensive and detailed insight into business transactions.
In Hong Kong, every incorporated company is required to comply with all the requirements set by the IRD to keep their books up to date and in order. Therefore, bookkeeping and accounting for Hong Kong businesses are quite essential. This will not only aid in the maintenance of the accounting and auditing of the financial statements, but also help to facilitate the managerial decision-making process.
These two services in Hong Kong will also help you in filing the Profits Tax Return (PTR) for your company. It's especially important as your company accounts will need to be compliant with the Inland Revenue Department's (IRD) requirements.
Startupr: Accounting & Bookkeeping partner for your Hong Kong business
In search of an accounting and bookkeeping partner for your Hong Kong business? Startupr can help! For your business entity, we offer the best services in accounting, bookkeeping, and taxation services in Hong Kong.
If you are looking to comply with Hong Kong regulations related to accounting and bookkeeping, especially to HKFRS and SME-FRS, Startupr can help manage and record all the financial statements of your business. Over the years we have worked with thousands of companies to help maintain and record their company's bookkeeping and accounting to prepare their PTR tax forms and pass their annual audit.
If you want help with your business entity in Hong Kong, contact us for more information!