Whether during challenging times or even good times, small and medium-sized businesses should be progressive. Adopting fintech can help businesses to be more competitive and resilient. In fact, ever since COVID-19, having an account in a digital bank in Hong Kong has become a necessity. Since small businesses are already overwhelmed with many things, the banking process can at least be easier.
There are already a lot of SMEs that have moved and are enjoying the benefits of digital banks. This article will help you to understand why it is time to open a bank account in Hong Kong with a bank that offers digital banking services.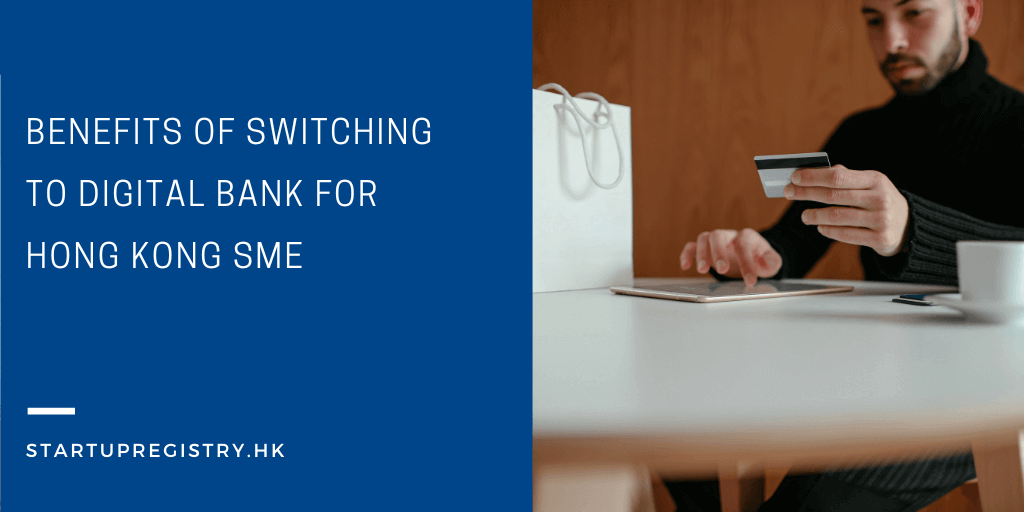 Why Hong Kong SMEs are switching to digital banks?
Banks have always followed the traditional process for everything. But in the last decade, as things moved forward in every industry, banks were forced to incorporate innovative ways of how they offered their banking services and products. With this change, a lot of businesses moved from using the traditional banking system to enjoy all the benefits of a digital banking system. And those that are still using the traditional banking system are planning to change their banks soon as well.
At one point, almost all businesses will have an account in a digital bank in Hong Kong. In fact, an EY Global SME survey determined that many small and medium-sized (SMEs) businesses are more likely to open a digital bank account in Hong Kong, rather than a traditional bank account. The reason is simple – digital banks offer a faster approval process and a certainty that the owner of the account can access funds any time they need. 
It is clear that there is a growing trend amongst SMEs in Hong Kong to use digital-only banks. Businesses want to cut costs, increase efficiency and pivot their business models. All this is possible when the business goes digital and opens an account in a digital bank in Hong Kong that offers features and tools traditional banks don't have. 
Benefits of Digital Banks for SMEs in Hong Kong 
There are multiple benefits that come with opening an account in a digital bank for Hong Kong SMEs. Some of the main advantages have been listed below:
1. Increased Efficiency
A lot of banks offer both online and mobile banking services that have multiple rich features embedded in them. These features can help you manage and accomplish your basic daily banking transactions, which is the most important thing a person looks for when opening a digital business bank account. 
For instance, mobile check deposit is a great feature that every business needs. Features like peer-to-peer payments are highly valued, where a person or business can send and receive a payment within minutes. In addition to this, the ability to view your account balance, view statements, transfer funds, and even pay for any bill at any time are some of the best features offered by digital banks.
People who had to travel distances and who complained about banking hours can now be at rest. Searching for ATMs nearby, enjoying cardless ATM withdrawals, and benefiting from tracking and budgeting tools are some additional perks, as well. Basically, this is a great breakthrough, especially for people who aren't able to spare an extra hour for going to the bank.
Although, it is advised to not just look for a bank that has digital services only. You should also prioritize the human touch. A digital bank in Hong Kong that offers both traditional and digital services is the best. With a hybrid digital bank, you can manage your account and all the transactions from anywhere and at any time. And if you need to visit a branch to discuss some deets, that is possible too.
2. Improved Security
Enhanced security is something every person and business looks for. With digital banking, the person's account and information are protected. Obviously, threats exist everywhere. Fortunately, a lot of banks offer extra security by taking more precautions. For instance, your digital bank will ask you to enable multi-factor authentication for your online and mobile bank accounts. 
A lot of mobile banking apps have the biometric authentication feature for logging in to your account. There are some banks that also offer voiceprint and facial recognition as well. In addition to this, the bank can also ask for additional verification in case the login attempt is being made from a new device or an unknown device. Overall, you will always be more secure with digital banking as compared to the traditional banking system. 
3. Greater Convenience 
As mentioned earlier, a digital bank in Hong Kong offers you the ability to bank from anywhere, whenever and however you want. Instead of traveling to your local branch during banking hours for any bank-related work, you can just access and control all your accounts online by using your username and password. All you need is a laptop or a smartphone, and you can access your account and even make transactions 24/7 using the online banking portal or the mobile app.
Some of the things you can do with a digital bank account include:
Go paperless with eStatements
Pay all your bills online, including your credit card bills
View all your statements, transactions, and balance
Set banking limits or alerts
Apply for a loan – any loan and get its approval faster and online
Transfer funds between domestic and international accounts easily
Deposit checks faster
All this just makes the overall banking process faster. This is a real-time-saver and also helps you become more environment-friendly. With a digital bank, you tend to reduce the use of cash. Electronic transactions are much more secure – you don't touch the cash, which makes you safe from any disease. In addition to this, you can track what happens to the transaction electronically. This also helps you manage your finances better. 
4. Reduced Costs 
Opening a bank account in a digital bank in Hong Kong will save a lot of money, due to the reduction in cheques and paper statements. It is faster and does not have any time constraints. In addition to this, you can set up automated payments which will reduce a lot of time and costs, especially in situations where the repayment includes interest that grows by the minute. 
You will not have to spend money to travel to the bank branch or wait in long queues. With an account in a digital bank for Hong Kong SMEs, you will have the time to focus on other things and grow your business. Moreover, digital banking has also helped banks since operation costs drop. This enables them to charge a much lower interest and service charge from their customers. Digital banks also offer much higher deposit interest rates as compared to traditional banks. It is a win-win situation for everyone. 
5. Easier Account Management
With a digital bank in Hong Kong, you can manage all your accounts in one place. Running a business means that you have multiple different bank accounts. Managing them can become hard when you need to visit the different branches every now and then to get something done. A digital bank account will allow you to track your bank account and finances all together and within minutes. There are no restrictions on when you can perform any banking task. 
In addition to this, banks are working towards creating more tools and features that can help their customers better. Some banks have already incorporated things like getting financial advice, getting financial analysis reports, savings tools, and even push notifications for things like overdrafts or low balances. In some cases, you can also activate your credit and/or debit card right from the application. 
Want to Open a Hong Kong Business Bank Account?
If you are about to open a bank account in Hong Kong soon, you need to consider the points shared above. The bank you choose should be able to offer you both online and mobile banking services. These services will be able to help you take complete control over your financial life by providing you with the best features and tools that traditional banks don't offer. 
Remember that having a digital bank doesn't mean you can't visit the branch. You can bank digitally most of the time, and still go to visit a branch or an ATM. Digital banking allows you to enjoy the best of both worlds. If you are looking for the right digital bank for Hong Kong SMEs, then Startupr can help you. Other than the company incorporation and company secretary services, we also assist in opening a business bank account in the right bank. Contact us to know more or to avail this service!