Hong Kong is one of the most liberal economies in the world. Therefore, forming a business in Hong Kong is fast. Its lack of legal barriers to starting a business, business-friendly atmosphere, and low company incorporation costs attracts business people. In this article, you will learn how to open a Hong Kong company, how to register a business in Hong Kong as a foreigner, the requirements for forming a business in Hong Kong, and much more. Continue through to the end to learn all about developing a business as a foreigner.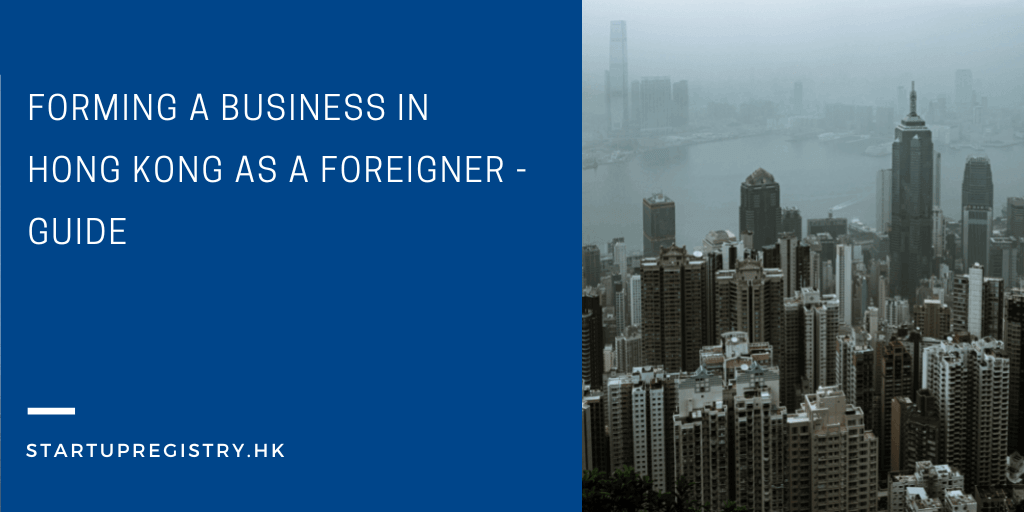 Why do foreigners choose Hong Kong to form a business?
Hong Kong has been one of the main attractions for foreign investors. An attractive tax regime is one, but many other reasons contribute to this. Some of them are mentioned below:
Global financial centre – Holding the title of the international financial centre, the financial services sector of Hong Kong remains perhaps its most significant financial support point, representing 21.3% of the city's GDP and giving about 273,000 jobs in 2019. Hong Kong was positioned fifth in the Global Financial Centers Index (GFCI) delivered by Z/Yen Group and the China Development Institute in September 2020. Hong Kong has one of the world's most dynamic and liquid securities markets. There is zero influence over capital movement, no capital gains, and no dividend income tax. Hong Kong is one of the world's most dynamic business sectors for initial public offerings(IPO), with US$51 billion in 2020.
Well-developed banking and legal system – Hong Kong is a significant financial focus, and whenever you have incorporated your business there, you'll be qualified to open a multi-currency bank account with e-Banking at a globally recognized bank like DBS or Hang Seng Bank. If you intend to carry on with work around the globe, this Is one of the key features. Note that on the off chance, if you like, you can open a bank account for your company outside Hong Kong. This can be in Singapore or Switzerland or any other country of your choosing. Startupr can assist you by giving clear rules, connecting you with the right bank and helping with business account opening.
Pro-business environment – The business environment matters the most when working on a business project. A pro-business climate is one of the essential requirements for forming a business in Hong Kong. The country has always maintained an open and accessible business environment necessary for business activities and commerce. 
Low taxes encourage entrepreneurship – Low taxes are one of the big reasons why entrepreneurs are attracted to this part of Asia. Hong Kong has a fundamental tax collection framework. Starting April 1, 2018, your business will pay 8.25% on assessable profits up to 2,000,000 HKD and 16.5% on any piece of assessable benefits north of 2,000,000 HKD. Previously, it was 16.5% of all company profits. However, the public authority chose to reduce government expenditures.
Easy access to the world's fastest-growing markets – One of the best ways to enter and access the Mainland China market is Hong Kong, and the Closer Economic Partnership Arrangement (CEPA) furnishes Hong Kong with exclusive benefits of the market. In this way, if you want to work with a Chinese accomplice, having a company in Hong Kong might be your most brilliant option, particularly concerning getting cash from your Chinese business partner.
Common types of businesses foreigners form in Hong Kong
Starting a new business or company can be exciting, especially for a foreigner. There are a variety of businesses that foreigners start in Hong Kong. Forming a business in Hong Kong is easy. You must know that the type of business you want to open is allowed in that particular country. Here is a list of companies foreigners can form in Hong Kong. 
Import/export businesses – Hong Kong's strategic location and free trade port allow it to successfully do an export/import business. 
Trading company – Cautious thought out and ultimate plans are needed to begin a trading company in Hong Kong. It requires a ton of exploration, and if you are anticipating extending your worldwide business to Asia, you ought to know all about what a trading company in Hong Kong is about.
Manufacturing company – Manufacturing in Hong Kong is light and labour-intensive. However, you can quickly start one of your own manufacturing companies. 
Service-based businesses (IT/Non-IT) – Service-based businesses are easy to form, with some basic requirements for forming a business in Hong Kong. Whether an IT or Non-it service-based business, both fortify their measurable commitment. 
Retail stores/franchises – Another great option if you want to open a company in Hong Kong is retail stores and franchises. 
Restaurants and more – With the ever-growing population and businesses, the need for good restaurants and business places will increase in the area. One can easily plan to start a restaurant in Hong Kong. 
What are the procedures for registering a business in Hong Kong? 
Now, if you are wondering how to register a business in Hong Kong as a foreigner, here are some requirements for forming a business in Hong Kong:
Choose company name 
Looking for a company name that has not been used is essential. The company's name should be unique, and Startupr's website permits you to be sure it will be approved before you continue with the Hong Kong company incorporation.
Choose the types of business
There are various types of companies that one can register for in Hong Kong. These choices are open only if you have another business. The most popular type of business that is opened in Hong Kong is "limited company". Below are the kind of companies that you can open in Hong Kong:
Limited Company – After the incorporation of this kind of company in Hong Kong, the individual can enjoy a tax reduction similar to the resident business people, including a free trade agreement with China. 
Branch Office – If you currently have a business already running outside Hong Kong, you can open its branch office in Hong Kong. 
Representative Office – This kind of office is the most restricted method for building a presence in Hong Kong as these workplaces are not allowed to draw themselves in any profit-making exercises in the country. This implies that you wouldn't have the option to sell or try and make labour and products in Hong Kong.
Apply for Business Registration Certificate 
The next step after you have chosen the company name and type is the business registration. The business enrollment will be done in the Inland Revenue Department of Hong Kong around one month before the commencement of the company.
The company incorporation application has the business registration application as well. This will make the process of forming a business in Hong Kong easy. Startupr helps you with that. Also, after the company has been registered, you would need to place the business registration certificate on the office premises at all times where it is visible to everyone.
Open a bank account
After the company has been registered, you would require a bank account for the deals that take place for the services given. It is an arduous process, yet with the assistance of a Startupr, one can direct you on the right way to open a bank account in Hong Kong.
The process includes researching the banks and choosing the bank that addresses your issues. Accumulate all the documents submitted to the bank. Guarantee every one of the prerequisites has been satisfied so one can set up the bank appointment. Meet the bank person face to face and submit the documents and application to the bank. After the bank's approval, the bank account is opened, and you mayutilise internet banking uninhibitedly and without any problem.
What taxes do businesses in Hong Kong have to pay?
Known for having one of the world's simplest and most business-friendly tax systems, Hong Kong is the hub for offshore companies. It is required to file the profit and Corporate tax returns. In April each year, Corporate profits tax returns are issued by the Inland Revenue Department (IRD) of Hong Kong. Tax payments are typically due between November and April of the following year.18 months after the date of incorporation, the IRD of Hong Kong will issue profit tax returns for businesses that are newly registered. 
How easy is it to get funding for a business in Hong Kong?
Hong Kong grants the cheapest ways of funding, and that is why forming a business in Hong Kong is easy. Various government and private programs assist you. Let us dive deeper into them:
Government programs and grants – The government in Hong Kong is focused on developing the startup ecosystem. Various assets are available to help new companies and assist SMEs with getting funding, connecting with investors, and getting advice on everything from set-up to development and support. Look at govt.hk to figure out more about the different financing plans accessible. Various other websites also give a vast and nitty gritty rundown of financing assets and a rundown of government bodies supporting new businesses.
Private investors and institutions – Private investors incorporate people, investment organizations, and, in some cases, loved ones. If you have a new business, you'll likely need to rely on a private investor for cash. Programs such as Crowdfunding can help. Crowdfunding means raising capital with the help of contributions of maybe your friends and family or the network of people you know will be interested in assisting you. There are many crowdfunding platforms available that you can search online. Another way can be hosting a startup event, where you can meet people and network to meet your potential investor. 
Startupr helps you form and manage your company in Hong Kong
Startupr is a one-stop solution for everything you need to start and manage your company in Hong Kong. We provide a wide range of services, from incorporation and registration to tax consultation and corporate secretarial services. We also offer a comprehensive suite of digital tools to help you manage your business, including our back office system.
Whether you're a first-time entrepreneur or an experienced business owner, Startupr can help you get your business up and running in Hong Kong. Contact us today to learn more about our services.