Planning to have your own business in Hong Kong? Or do you already have one? As one of the ideal places to start a business, Hong Kong business grants can help you grow your business quickly. Well, Hong Kong is a tax haven which automatically makes it an ideal space for all aspiring business owners. Business grants in Hong Kong are considered to be a cherry on top for blooming as well as for established entrepreneurs in the Hong Kong region.
Want to learn more about how Hong Kong grants can help you a lot with your business idea and other necessary requirements? Then check out this article with a detailed explanation of grants in Hong Kong!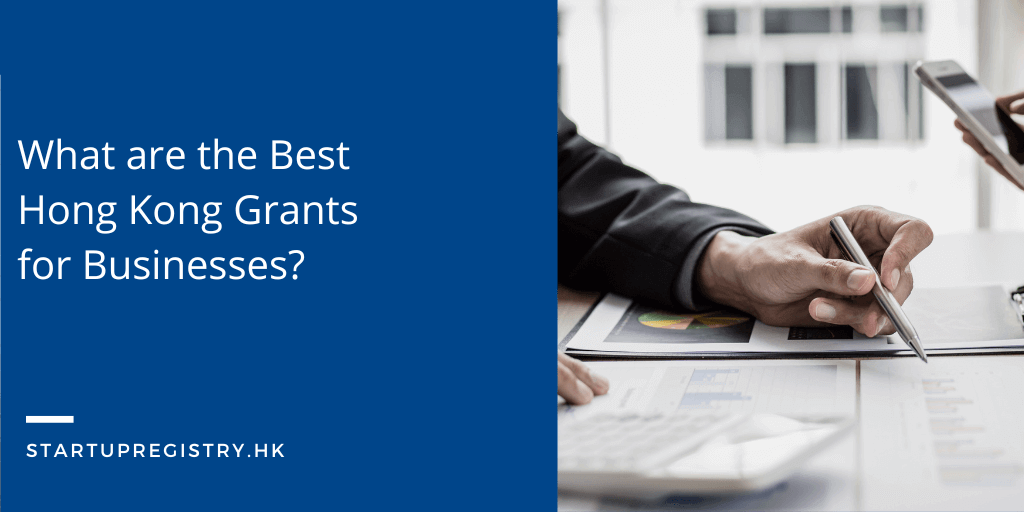 Business grants in Hong Kong
Before we move to learn more about business grants in Hong Kong, let us first figure out what exactly the term 'business grants' means.
Business grants are a type of monetary fund for the business that will help them with their future plans and expand their business. The source of these grants is usually the government, but sometimes, many types of corporations, foundations, or trusts may also give grants to business owners. In other words, you can say that business grants are a type of business funding. However, there is a difference between normal business funding and business grants. That difference is that business grants are not meant to be repaid by the recipient, unlike normal business funding.
Once you have got to know about the term business grant, let us quickly understand the other factors that are related to the grants so that we can better understand how they can help you.
How do business grants work?
As mentioned above, business grants are a type of financial fund for businesses that will help them grow or meet their business expectations. Business grants are like a helping hand for such businesses because they won't have to repay the amount, nor do they have to provide any share or profit to them. There are various types of business owners and entrepreneurs that are eligible for such types of grants. In places like Hong Kong, which is already a haven for all business owners because of its tax benefits and a great range of opportunities, if you are eligible for business grants as well, then we are sure that you will be getting everything needed to grow your business easily.
Who is eligible for business grants?
Let us move towards learning what the types of grants available for businesses are and who is eligible for such types of grants.
Government business grants – Government grants are also subdivided into three parts federal, state, and local grants. Federal grants are the grants that offer the most money. It is also the most competitive grant. However, federal grants are particular and are exclusively for those with clear requirements. The second grant is a state grant, and it is less than the federal one in both terms of competition as well as money. Local grants are comparatively less than the other two but very helpful for small entrepreneurs and those willing to take help from local authorities for their specific business.
Veteran grants – Veteran grants are harder to get because of their limited period availability. Even though the government funds it, it is still not necessary that you would be able to apply for it. There are various types of state and local government schemes, especially for veterans. Not only government-funded but there are various types of private loans that are also available for veterans. This grant is like stairs for those who wish to enhance their skills of being an entrepreneur!
Special grants for women – Globally, people are now focused on working with equality, irrespective of gender bias. The same goes for the business field as well. After years of oppression and struggle, finally, it is time for women to participate equally, even in the business fields. However, it is still a very controversial and debatable topic for all to provide special grants to women. We have witnessed that despite offering a special type of grant for women, they are still getting less amount as a grant compared to men.
Grants for immigrants and minorities – There are not many grant offers for small business owners, but there are special types of grants for immigrants and many types of minority groups. Refugees can apply for special grants and avail themselves of many benefits while running any business.
Now that we have learned about eligibility for business grants along with the types of grants available. Now let us move towards the best business grants in Hong Kong that can help you in growing your business and reach new heights!
Top 15 business grants in Hong Kong
Hong Kong business grants are listed here with their specific qualities:
Enterprise Support Scheme (ESS)
The enterprise support scheme was launched in the year 2015. The aim of ESS is to provide funding for local companies. They are bound to promote R&D and the private sector to invest in it. R&D is known as in-house research and development. Now let us talk about the eligibility for applying to ESS.
Design Incubation Programme (DIP)
The design incubation program is fully supported by the government of Hong Kong SAR. The managing partner of DIP is the Hong Kong design center. The aim of DIP is to curate the initial start-up and provide hardware and software support to them. Under DIP, incubators are provided with office space and other business-related training and knowledge for two years.
Eligibility for applying for DIP is, The company must be registered during the early stage of development as a start-up Hong Kong-registered company.
Applicants for DIP have to be permanent residents of Hong Kong.
Overseas applicants can apply for DIP If they have registered with a compact hatch that is not more than three years old.
Research Talent Hub (RTH)
RTH is a funding support system for those companies which aim for R&D (research and development). These projects are funded by the innovation and technology fund ITF.
Those who aim for RTH must be permanent residents of Hong Kong or have the legal authority to work in Hong Kong.
They must have a degree from either a local or a well-known non-local university. The degree criteria include bachelor, master's, and doctoral degrees.
Guangdong-Hong Kong Technology Cooperation Funding Scheme (TCFS)
TCFS was launched in the year 2004, September. The objective of TCFS is to encourage the collaboration of research and development R&D among various universities, research institutions, and technology enterprises. They are actively working in Hong Kong and Guangdong/Shenzhen.
The only eligibility required for TCFS is that it must be a center of R&D. Any designated local public research institute can also apply for the same.
Partnership Research Programme (PRP)
It was launched in January 2019 and aims to help those research and development( R&D) schemes that are working under R&D centers or designated local public institutes that collaborate with companies.
Now let us see what criteria for applying for PRP–
Those who wish to apply for PRP should have a co-applicant partner from the industry.
It has to be an R&D center or a designated local public institute.
Innovation and Technology Support Programme (ITSP)
ITSP tends to provide support to platform and seed projects by the R&D centers and designated local public institutes. ITSP provides funding once a year, probably between February and May. The list of the criteria for applicants of ITSP only contains one requirement, and that is that it has to be an R&D center or designated local public institute.
Re-industrialization Funding Scheme (RFS)
RFS was launched in 2020 in the month of July. The objective of RFS is to uplift the production of lines in Hong Kong by providing subsidies. RFS provides HK 15 million, or one-third of that is approved. The eligibility for RFS includes that the company must be corporate under the Companies Ordinance (Cap. 622).
Mainland-Hong Kong Joint Funding Scheme (MHKJFS)
MHKJFS was launched in April 2019. The aim of MHKJFS is similar to ITSP. The main objective of MHKJFS is to focus on research institutes and technology enterprises, mainly in the Hong Kong region and on Mainland.
Eligibility for MHKJFS include:
It has to be an R&D center or a designated local public institute.
The work of R&D must be conducted in both the regions, Hong Kong as well as the Mainland.
R&D Cash Rebate Scheme (CRS)
CRS was launched in April 2010 and worked on encouraging investment in the private sector in research and development. It also aims to encourage local enterprises to create strong partnerships with designated local public institutes.
Here are some of the eligibility criteria for the applicants.
Those companies that can apply are incorporated in Hong Kong under the Companies Ordinance (Cap.622) or Hong Kong enterprise, which is registered under the Business Registration Ordinance (Cap. 310).
The company should neither be a government-subvented organization nor a subsidiary of a government-subvented organization.
Technology Talent Admission Scheme (TechTAS)
TechTAS is technically not a conventional type of grant. It is a type of scheme which aims to provide a fast track for companies to take the non-local talent that will undertake R&D work for them.
Eligibility for TechTAS include:
The company must have a valid quota.
Applicants must have a degree in science, technology, engineering, or mathematics (STEM) from any famous and authorized University.
An applicant should not have overall security risk and must be working as a full-time employee.
Innovation and Technology Fund for Better Living (FBL)
FBL tends to provide support for innovation and technology projects by offering them a grant of up to 90 percent of the total cost (up to HK 5 million). These projects must focus on making the lives of people normal, safe, and convenient.
Eligibility criteria include:
Public and professional bodies
Social service organizations
Trade association
It has to be a non-governmental organization that receives a subsidy from the social welfare department.
Reindustrialization and Technology Training Programme (RTTP)
The objective of RTTP is to provide training in advanced technologies for local employers. The basis of 2:1 is provided to the eligible applicants.
Eligibility criteria–
Business registered under Cap. 310 or,
Registered as a non-government and non-subvented organization
Applicants must be of relevant background and have to be permanent residents of Hong Kong.
Cyberport Incubation Programme
The Cyberport incubation program provides a start-up of HK 500,000. It aims to provide them with a track growth and includes financial assistance along with office space.
Eligibility criteria–
Business plan for services that can be marketed in 12 to 18 months.
The founder of the applicant's company must hold at least 51 percent of the company's shares.
Technology Voucher Programme (TVP)
TVP aims to provide funding of 600,000 HK to local organizations that help them learn new technologies and services.
Eligibility criteria–
It must be a statutory body.
Registered either under the business registration ordinance or under the Companies Ordinance.
It should not be subvented by the government, not even as a subsidiary one.
Must have substantive business in Hong Kong.
General Support Programme (GSP)
GSP provides grants for those organizations which aim to uplift the development of industries under the R&D project. Eligibility criteria are that one has to be a legit Hong Kong organization.
Public Sector Trial Scheme (PSTS)
PSTS provides a financial grant for the realization and commercialization of research and development results under the ITF projects. 
Below are the eligibility criteria for PSTS:
Completed ITF and R&D projects are running under the R&D center and designated local public institutes.
Easily set up your Hong Kong company with Startupr!
Want to set up your company in Hong Kong but find the guidelines and all the procedures of Hong Kong banks long, tedious, and complex? Well, you need not worry! We at Startupr can resolve all your questions about establishing a business in Hong Kong and assist you in the best way possible.
At Startupr, we have a specialization in Accounting and Bookkeeping services. Our company can help you with various services, including Business Registration, Company Secretary services, Business Address & Mail Forwarding, all based in Hong Kong. Get in touch with us today so that we can make the process hassle-free for you.