Whether you are a young entrepreneur or want to expand your business outside your current hub, there are processes and documents you must be familiarized with when it comes to registering your company in Hong Kong.
The first step is to apply for a limited liability company with the Companies Registry. At the same time, you need to enroll with the Business Registration Office for the Business Registration Number. Therefore, two very important registration codes when starting a company in Hong Kong is the company registration number and business registration number.  You must have both registration numbers in order to run a company in this Asian city.  
The numbers are required at every step of the legal documentation such as renting office space, opening a bank account, and signing a contract. These two numbers might look the same to you, but they serve different purposes. Let us dive deep and understand the Hong Kong business and company registration numbers and their differences.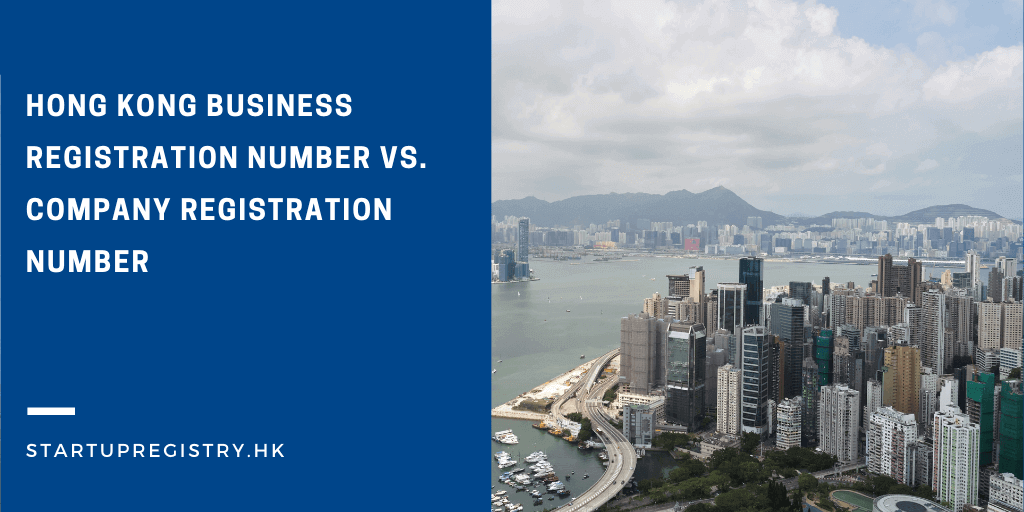 Hong Kong Business Registration and Business Registration Number
A TIN (Taxpayer Identification Number) is used in the US to identify a unique taxpayer's code that could be a Social Security number. Instead of the TIN, Hong Kong distributes a Business Registration Certificate number that is likened to the US TIN. This is a unique code given to newly incorporated companies in HK.
What is business registration in Hong Kong?
To start running your business in Hong Kong, you need to register it with the government. This is done with the business registration office in Hong Kong.
According to the Inland Revenue Department Notice Business Registration, any person applying for the incorporation of a local limited company or registration of a non-Hong Kong company under the Companies Ordinance (Cap. 622) is deemed to have applied for business registration at the same time. The applicant is not required to submit a separate application for business registration to BRO. Upon the approval of an application, the Companies Registry (CR) will issue a Certificate of Incorporation / Registration together with a BRC to the applicant in one go. For details, please browse CR's website.
Upon incorporation, the nature of business of all local limited companies is shown as "CORP" in their BRCs. Local limited companies are required to notify BRO in writing within 1 month of the date of the actual commencement of the business their business name, description and nature of business carried on, business address, and date of commencement of business.
Business required to be registered includes:
Any trade, craftsmanship, profession, commerce, or other activity carried on for profit or even if the business is non-profit.
Any club which gives offices, administrations, and exclusive club premises to its individuals for social intercourse.
Every local or overseas company that built a place of business here,  whether or not it is carrying on any business in Hong Kong.
Every overseas company with a representative office or a property in Hong Kong, regardless of whether or not it has established a business in Hong Kong.
What is a business registration number in Hong Kong?
The Inland Revenue Department (IRD) of Hong Kong assigns a unique Business Registration Number (BRN) upon registration. The Business Registration Office is accountable for registering businesses carried out by anyone in Hong Kong. It may be by an individual, a local limited liability company, a partnership, or a non-Hong Kong company. It is mandatory for every business to have this business registration number in order to operate.
Why do you need a business registration number in Hong Kong?
A Hong Kong business registration number is used as a Tax Identification Number (TIN) for businesses, which means that a BRN is necessary for all legal operations and payment of taxes in Hong Kong. As stated in the Business Registration Ordinance (the BRO), every individual doing business in Hong Kong must register their business with the Business Registration Office at the IRD. In case you want to open a branch in Hong Kong, you also need to apply for branch registration.
Business registration sample
The BR number follows a unique 8-digit grouping, for example, 70569713–### – ## – #-#, which is given and relegated by the Inland Revenue Department (IRD) on the date of incorporation. This number appears at the center of the Business Registration Certificate.
If you don't know your BR number after you've registered, there is a way to quickly check your BR number on the web. You can go to GovHK Business Registration Number Enquiry to look for your business registration number. There is no administration charge for the search.
Hong Kong Company Registration and Company Registration Number in Hong Kong
Submit a company name into Cyber Search to search the availability of a local limited company. You have to see if an existing company is using the name. This can be found by conducting a free company name search.
What is company registration in Hong Kong?
The Companies Registry is a government department that is responsible for the registration of all Hong Kong and non- Hong Kong companies. To start a company in Hong Kong, you have to get started with the company registration process. For company registration, there are a few steps to take care of. Hong Kong is one of the most liberal economies for business purposes and company formation. It helps in flourishing business with minimal bureaucratic restriction in the nation for foreign investment. You will get the company registration number after the company is successfully incorporated.
What is a company registration number in Hong Kong?
A company registration number is an exceptional mix of numbers. It is used to identify your company and prove that it has registration in the Companies Registry. As referenced, the company registration number is consequently given by Companies Registry once an organization is shaped. You can't choose or save a specific number.  You cannot change it.
Regardless of whether or not you change your company name, business nature, or offer structure, your company registration number will remain the same from the date your company commenced. This is the unique ID that distinguishes yours from others.
When do I need to use the company registration number?
You will need to provide your company registration number in numerous situations. For example,
Designating or eliminating a company's chief
Changing passport or residential address details of a company director
Allocating new organization shares/expanding share capital
Documenting annual return NAR1
Issuing share certificates
Issuing dividends vouchers
Planning company goals
Terminating an organization
Company registration sample
Main differences between Business and Company Registration Numbers
There are certain differences between the Hong Kong business registration number (BRN) and the Hong Kong company registration number (CRN). Suppose you want to incorporate a local limited company in Hong Kong or register a Registered Non- Hong Kong company you'll need to apply to the Companies Registry.
| Business Registration Number | Company Registration Number |
| --- | --- |
| BRN is considered as a Tax Identification Number. | CRN can be compared to a Social Security Number. |
| It is used to recognize a business to regulate a country's tax law. | It is used for representing a company in government records and legal identity. |
| BRN is the first eleven digits of certificate number on business registration number. | CRN is a seven digit number mentioned on the top left of the certificate of incorporation (CI). |
| You can check BRN online. | You can check CRN online. |
| BRN will be used in filing the Profits Tax Return (PTR) or audit report. | CRN will be used everywhere to showcase the identity of your company. |
How can Startupr Help?
Still confused? Hire a professional that will help you tackle all your relevant concerns and processes, allowing you to make your business incorporation as hassle-free as possible!
Despite the fact that the difference between the business registration number and company registration number can be very confusing, the whole process doesn't need to mirror that by any means. In case you are new to starting a business, getting all the documentation done by yourself can really get turbulent. You may commit many mistakes. Therefore, it would be a smart decision to hire a professional like Startupr. They will guide you in every step of incorporation and help you get your documentation without any mistakes. 
Startupr is an expert in helping people get their Hong Kong business registration number and Hong Kong company registration number. We are the best incorporation provider in Hong Kong. We have helped thousands of companies to start their business in Hong Kong. Startupr has an expert team who guides in the incorporation. This specialist incorporation team enables you to register your business hassle-free and affordably.
Above all, Startupr has transparent pricing, lowest rates, and a fast, creative, and flexible approach. We believe that your dream company should start and grow at a perfect pace. Contact us and avail our services now!