So you've decided to expand your business and open a subsidiary company in the heart of Asia, Hong Kong? Or you're looking to widen your presence on a global scale? If so, we have some tips for you to follow.
Hong Kong is known for being Asia's World City. For the last two decades, it was one of the world's freest economies boasting a famed financial hub. It was also known as an excellent place to do business because of its tax procedures and high potential gains. It's ranked above the USA, UK, and Japan as the least corrupt city state in the world.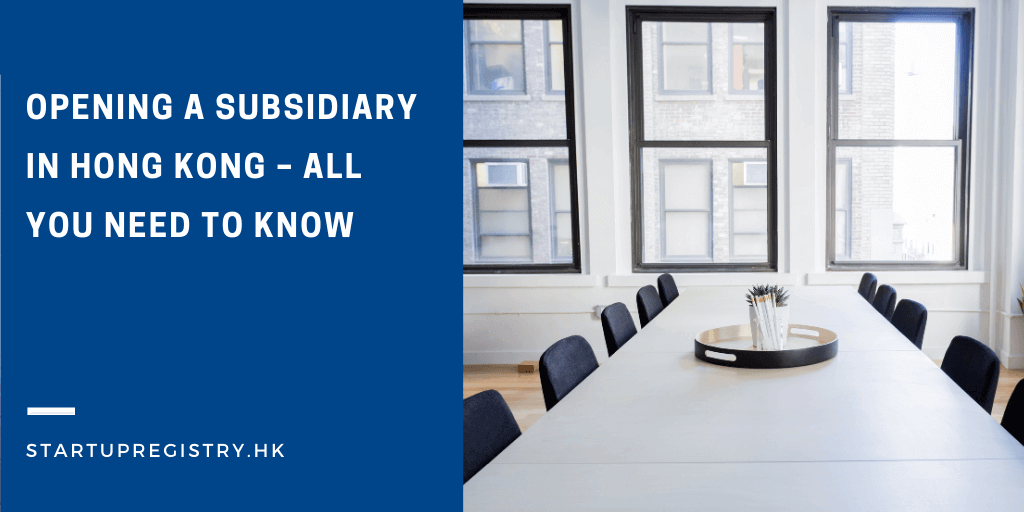 With such accolades, you're probably wondering why Hong Kong is so great for business owners and leaders. Setting up a business is relatively easy, quick, and economical. As a foreigner, you can own 100% of your company in Hong Kong, and you may be the sole director and shareholder. Additionally, Hong Kong is a great gateway for establishing your business in China or other Asian nations.
The reasons are plentiful – its administration of economic policies, along with the provision of a secure and clear judiciary structure. And such an environment breeds entrepreneurial growth.
Because there is strong interest for business owners to set up shop here, the HK government does have a set of rules and guidelines everyone should learn about and follow. It demands proper documentation in order to approve the commencement of a company's operations.
Whether you're looking to open a subsidiary company or a branch office in Hong Kong, allow us to take care of your specific needs. There are pros and cons to opening either company status, and we can provide detailed information in the consultation. Don't forget there are special taxation procedures — trust us at Startupr to handle all the matters for you.
What is a Subsidiary Company in Hong Kong?
If you really want to enjoy the maximum benefits of incorporating your business in Hong Kong as a non-resident foreigner, then consider opening a subsidiary company. To sell directly to the Hong Kong market, business owners should know the difference between setting up a branch office and a subsidiary company. The major difference between the two has to do with the connection or ties to the parent company. A subsidiary company is considered a separate legal entity, while a branch office is not. A subsidiary is also allowed to run its own operations, independent of its parent company and have capital, revenue, and associated costs.
As with most things in life, there are both advantages and disadvantages that must be taken into consideration.
Pros and Cons of A Subsidiary in Hong Kong
Certainly, an independent company enjoys many benefits in the accounting and operations department. You should absolutely weigh in on the pros and cons before embarking on opening a business. Below are some we conjured:
Pros of a Hong Kong Subsidiary
Extend the presence of your parent company in Asia, while having the option to sell (or not sell) the same products or services. Why is this important? It's because a subsidiary can act independently while enjoying some benefits of a mother company located in another country.
When it comes to brand management, your subsidiary doesn't have to be linked with the parent company, and therefore, can have an entirely different customer base (and relationship)
Fast, easy, and affordable to set up
Cons of a Hong Kong Subsidiary
A subsidiary is a legally incorporated entity in Hong Kong
The parent company is not accountable and responsible for all legal liabilities and debts
Requirements to Register a Subsidiary in Hong Kong
Before registering your business, you need to choose a unique and an approved name, then you must submit an application (on behalf of the subsidiary) in the Companies Registry.
Here are some of the documents requested for registration in HK:
A list of company officers (for non-residents: a copy of their passport and latest residential address proof, for HK residents: copy of their HKID card)
Documents from parent company: copies as Certificate of Incorporation and Articles of Association
Incorporation details
Articles of Association for the Subsidiary
Most importantly, all the documents are required to be submitted in Chinese or English to the Companies Registry. If in Chinese, you must submit English translations along with it.
The procedure should last approximately last weeks. Once it is done, then the Companies Registry will issue a Certificate of Registration of non-Hong Kong Company.
Other than this, the owner should also apply for a Business Registration Certificate (BRC) with Inland Revenue Department and also ask for any licenses required for their business. Check here if you wish to know whether or not your particular business requires a license.
You must apply for the Business Registration Certificate within one month before operating in Hong Kong. Additionally, you must open a business account for your HK business. It need not be opened physically in HK, and we're here to assist you with the account opening process. Contact us at Startupr!
Procedures of a Subsidiary Registration in Hong Kong
As soon as you are done registering details with the Companies Registry in Hong Kong, a subsidiary is subject to follow the same compliance requirements as all the other local companies.
If you are looking for some help, then Startupr is here every step of the way. In short, here is the registration process in HK:
Start the business under a name similar or entirely different from that of the parent company, and then register within one month after commencement.
Collect all the essential information and documents for the formation of your company.
Prepare the subsidiary formation documents
Submit the original signed company documents to the government department along with government fees.
Check every document thoroughly
Pick up Business Registration (BRC) from the government department.
Deliver the documents
How can Startupr Helps?
Expanding your business without knowing or understanding local ordinances doesn't have to be a daunting process. Luckily, the Special Administrative Region (SAR) offers a breadth of benefits when it comes to ease in doing business. With a simple (though specific) company incorporation procedure and low taxes, this region provide a superb international business environment.
After you're ready to register a business in Hong Kong, you may contact us for more information. Whether it is a subsidiary, branch, or representative office, we have the expertise to assist you every step of the way. We have many years of experience in setting up different types of businesses in Hong Kong.
Moreover, we have a team of experts who can advise you on numerous aspects of your unique business. As we know every business is different and has unique needs, we'll provide information to lead you through the process without hassle. We can also expedite any part of the process, should you be in a hurry to start operating.
So, are you ready to take the leap? That's fantastic because we're here for you every step of the way should you require our expert advice in starting a business in Hong Kong.