While running a small business in Hong Kong, keeping a tight grip on the finances is a good practice for achieving success. However, handling all the business finances can be a complicated and quite time-consuming task. Some small business find it challenging to cover all the business basics from paying the bills to tracking the revenue, let alone managing the books of the account and finding out the answers to some common questions, like:
Is the business generating good revenue?
Where can the business cut expenses?
Does the business hit the budget numbers?
Should the business invest in new equipment?
Did the business follow the tax regulations set by the IRD?
If you are stuck finding the right answers to these questions, then using accounting software may help you better manage your accounts. Cloud-based accounting software has been gaining momentum in the business world because of its added benefits.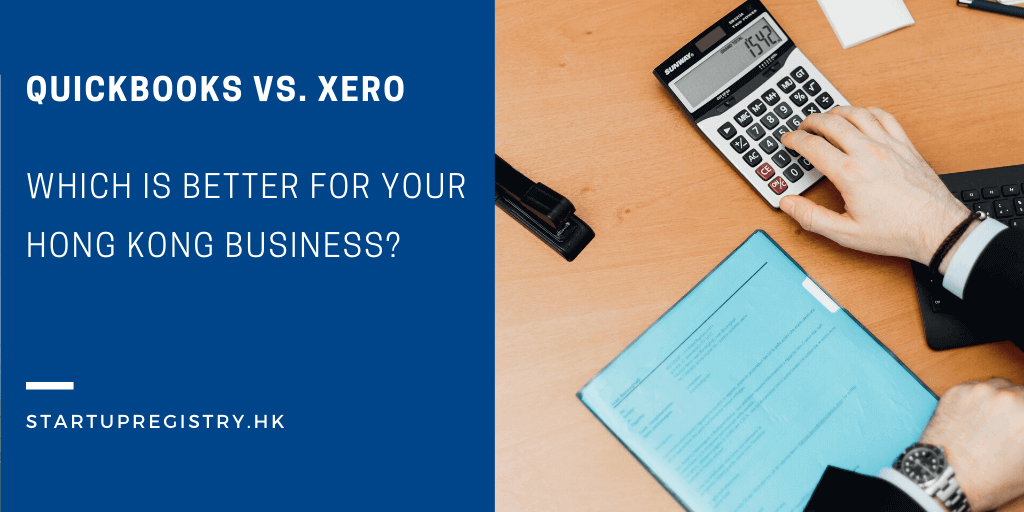 Accounting Software for a Hong Kong Business
For operating a business in Hong Kong, it is necessary to compile your accounting information yearly for the audit and corporate tax submission to the IRD. That is why it's necessary to keep your accounts in order, which is critical to the filing of the Profits Tax Return (PTR).
Here businesses can use accounting software. Before this, organizations had to manage the accounting at the end of each financial year. Fortunately, with technological developments, you can create and manage financial records and analyze reports at any time. The best accounting software that businesses can choose on the market are Quickbooks and Xero. This article will help you get insights about both softwares.
Why is accounting software important for your business?
As a small business owner, profitability is the key ingredient to achieve the desired results. But to get the business off the ground, you need to have a bird's eye view of the cash flow; from where the money is coming from, how much you have at any given moment, and where it's going.
A good quality accounting software can help you manage that, and sometimes, a little more. Accounting software is basically a class of computer programs that help businesses manage their financial transactions. Incorporating accounting software helps organizations use the resources in their accounting departments more effectively, and also minimize costly bookkeeping mistakes.
Quickbooks vs. Xero
But the real question arises, how do you choose the right accounting software for the business? As a matter of fact, the popularity of cloud-based accounting software has been growing in recent years, as small business owners have identified the advantages of adopting such software.
There are a plethora of solutions available in the market, but the real debate of using QuickBooks vs Xero has often dominated the discussions of which accounting platform is the best for SMEs. In this article, we provide readers with an understanding of the differences between these two platforms as a better accounting system.
QuickBooks
The first accounting software that all businesses should be aware of is Quickbooks. This is one of the best marketing-leading accounting software from Intuit, which attracts the attention of many business owners. It offers "smarter business tools for the world's hardest workers".
With the help of this cloud-based software, companies can easily automate their daily-routine tasks and processes such as tracking projects and managing bills automatically on their phone. Let's read some insights about this accounting software.
Features and benefits
Quickbooks offers an ample number of benefits to business owners. It helps them manage their business finances so they can invest their precious time to complete other important tasks. If you are operating a small business, then this software can be incorporated for generating reports for planning, invoicing customers, filing taxes, and paying bills.
To be more precise, whether you own a small or mid-sized business, this accounting software will help to manage every document effectively. The best features of QuickBooks for small business owners are:
Profit and Loss Report: Quickbooks allow business owners prepare the profit and loss reports in just a couple of minutes. It will show you how profitable you are by summarizing your overall net profit.
Keep Track of Bills and Expenses: Quickbooks helps business owners keep proper track of their bills and expenses by connecting your account with your bank. This saves a lot of time when reconciling the bank statements.
Manage Income and Sales: Quickbooks accounting software also helps business owners in managing all the sales and income records of the company.
Cash Flows Statements: You can also quickly create cash flow statements. With the help of this report, manage all the activities from financing, operating, and investing to cash inflow and outflow for your business.
Bank Feeds
Quickbooks also enables users to use the bank feeds to import the transactions from their financial institution or bank directly onto their cloud-accounting software. This feature minimizes the requirement to monthly import the transactions of the business.
Pricing Plans
QuickBooks offers multiple packages at various prices depending upon the functionality and features offered to SMEs. If you want to start your business only in Hong Kong, then you can opt at just $10 per month. You can also take a free-trial for 30 days and then decide whether this accounting software suits your needs.
QuickBooks partner program
The ProAdvisor membership of this program is free, and all you need to do is sign into QuickBooks Online Accountant and start using this software for your business operations. You can also add new clients to your QuickBooks account once you complete the proAdvisor training.
Xero
Another accounting software that you should be aware of is Xero. It is an online accounting software that lets users work from anywhere and share their financial sheets easily. The best feature of this accounting software is that its' sleek and enjoyable to use. This is because the Xero accounting software is incredibly simple, powerful, and user-friendly that helps companies manage their business in an easy and effective way.
Accounting Features
For small businesses, Xero is an excellent value software. It incorporates approximately every feature, like inventory management tools, accounts payable, and quickly categorises all the bank transactions, so that businesses can have everything ready at tax time. Here are some features of Xero that you should know:
Ease of Use: Xero allows users to set up their business accounts on their platform effectively. It also provides employers with the right to use a wide range of tasks, such as adding customers, creating invoices, and connecting with business bank accounts.
Timesaving Features: The best part about this accounting software is that it saves the time of executives by streamlining different processes.
Inventory Purchasing and Tracking Orders: Xero also helps users create quotations or invoices which helps keep a proper record of their inventory. In case you entered more than intended, it alerts you with a red popup box.
Information security- If you are worried about the security of your business finances, Xero would be your best choice. It helps protect your valuable business information with extra layers of protection.
Bank Feeds
Nowadays, the bank feed section plays a critical area in managing business finances. With this feature in Xero, business people can easily minimize the need to import monthly transactions and improve business efficiency. Xero offers the option of bank feed on DBS, Hang Seng Bank, and HSBC, whereas QuickBooks only facilitates bank feeds with HSBC.The accounting software Xero is helping develop the support system for Hong Kong SMEs.
Pricing Plans
For small businesses, Xero offers good value. All of its plans include every feature which is normally available in top-tier plans. The best part about this online accounting software is that it allows companies to support an unlimited number of users, as compared to other accounting software that base their pricing on the number of users you add to your plan. Xero offers a 30-day free trial, so you and your employees can try out the software before you buy it.
Xero partner program
Xero works with accounting and business advisory service providers worldwide to help small businesses succeed. In fact, it also offers an ample number of extra rewards, support systems, and benefits to help you make your own business even more successful. The plans for Xero partner prices start from US$3 for a Xero Ledger subscription. It also offers a discount of approximately 30% for each Xero Business Edition subscription.
Why is having accounting software important for a Hong Kong company?
By now you may have a better idea about which accounting software, Quickbooks vs. Xero, is better. So you can choose the best accounting software for your Hong Kong business.
As per the IRD, all the businesses are required to keep adequate records of their business entity. Since all the accounting records need to be retained for at least seven years, accurate accounting records are important not only for your own business, but also when tax time comes around and you need to do your annual audit.
Below are some reasons supporting the requirement of accounting services in Hong Kong.
If there is any loss or theft caused in the company, it might be detected easily with the help of accounting software.
Businesses can easily update the record in filing an accurate PTR.
In order to have better control of your company.
When all of the necessary documents are readily available, businesses won't need to pay more for a Hong Kong professional accountant's extra time.
Portraying a much more professional image that makes it easier for you to deal with investors.
Conclusion
Have you wondered how profitable your company would be if you incorporate accounting software for managing your business finances? You can choose from Quickbooks and Xero as per your business needs and requirements. Both the accounting software are helping people in controlling their business transactions effectively.
If you want help from professionals in fulfilling the need to maintain accurate accounts, Startupr can help you! Our outsourced accounting and bookkeeping services in Hong Kong allow your company to keep track of all the figures in your accounts by our team of expert professionals.