We have seen people investing a lot of things in their business for its overall growth. Your business does not only require financial support but other essential support as well. We have seen people making a lot of mistakes which eventually cause losses to the company. Well, we know how much your business means to you, and you don't want to compromise any bit of it. 
We all know that there is not a single business that has never witnessed any type of loss. The business itself comes with a risk, and it is not possible that you will only face good times and profits. Keeping all the business risk aside, we can still manage to eliminate the chances of incurring huge losses and penalties. Penalties are a totally avoidable aspect of business, and just keeping all the legal formalities fulfilled within the due date can eliminate the penalties. You can also land in trouble if you have yet to apply for an adequate license for your business type. 
This article will help you discover SFC License in Hong Kong and other related information. What's further? 
What is an SFC license in Hong Kong?
Why does your business need an SFC license?
Types of SFC license in Hong Kong
Exemption of SFC license
How to become qualified for an SFC license in Hong Kong?
Required documents for SFC license
Let us dig in!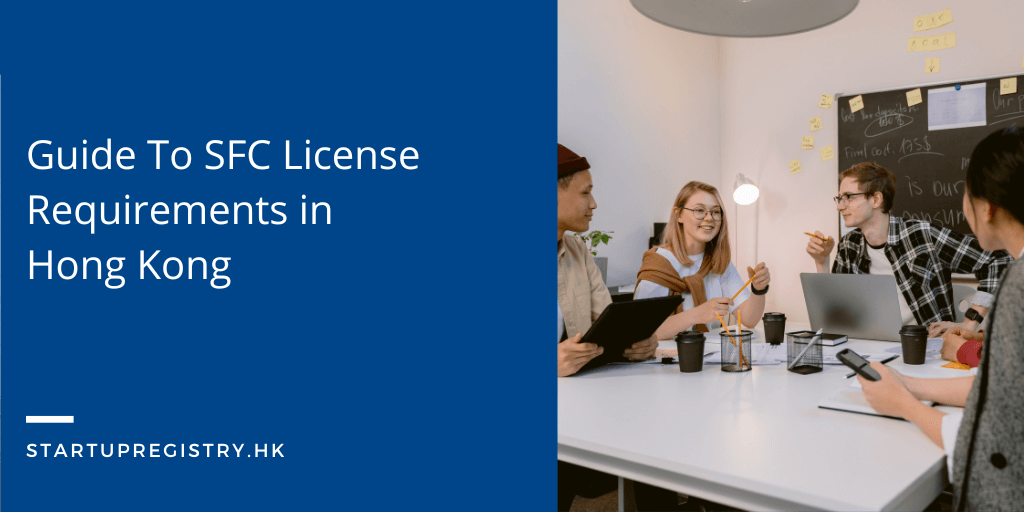 SFC License in Hong Kong
First of all, let us move to learn about the SFC license. An SFC license is a permit that allows companies or individuals to carry out regulated activities or process any regulated activity with business operations. This license is issued by the Securities and Futures Commission of the Hong Kong region. 
What Is an SFC License in Hong Kong?
Every business or any individual who is planning to drive out RA (regulated activities) in the Hong Kong region must apply for SFC Securities and Futures Commission license. Even if you are individually supervising these regulated activities, then you must file a relevant SFC license issued by SFO. 
Why Does Your Business Need an SFC License?
The question arises: do I really need to apply for an SFC license? Yes, unless your business falls under the exempted category. 
Running a business in the Hong Kong region is considered to be one of the most favorable destinations because of its tax benefits. However, you still may have to follow the rules and regulations imposed by the government of Hong Kong. You are required to have some license for running a specific type of business. If someone fails to do so, he or she may land into legal trouble, which can cause penalties or even imprisonment as a punishment. 
You are required to apply for an SFC license unless you have an authorized financial institution that carries business on one or more than one regulated activity. Routinely provide high-volume transactions to the public for any type of service provided by you that could also constitute a regulated activity. Have established yourself as an individual who is carrying out regulated functions for your principal that relate to any regulated activity. 
Types of SFC License in Hong Kong
To understand the relevant SFC license, here is a list of various types of SFC licenses. You can check and match them with your corporation. 
Type 1 – Dealing in securities
Type 2 – Dealing in futures contracts
Type 3 – Leveraged foreign exchange trading
Type 4 – Advising on securities
Type 5 – Advising on future contracts
Type 6 – Advising on corporate finance
Type 7 – Providing automated trading services
Type 8 – Securities margin financing
Type 9 – Asset management
Type 10 – Providing credit rating services
Type 11 – Dealing or advising in OTC derivative products (not yet in operation)
Type 12 – Providing clearing agency services for OTC derivatives transactions
Exemption of SFC license
As per the information provided, if you are liable to apply for an SFC license, then there are also some exempted categories that don't require a specific license under the SFO.
Here is a detailed explanation of the exemption of the SFC license.  
Incidental Exemption
Regulatory activities that are incidental to another regulated activity for which you already have a license do not require a license. Some factors are also taken into consideration while determining the incidental exemption, such as,
If you have the license for Type-1 regulated activity and plan to carry out Type-4, Type-6, or Type-9 regulated activity, then you need not be licensed for the other three types because they are carried out completely incidental to Type-1. These exemptions are usually for stockbrokers who provide advice for investment or manage the accounts for their clients. 
If you have a license for Type-2 regulated activity and plan to carry out Type-9 or Type-5 regulated activity, then you are not required to apply for a license separately. Both of them ( Type-9 and Type-5) are completely incidental to Type-1. 
Securities Dealer
It is a marginal financier exemption under which if you are licensed under Type-1 regulated activity, you are not required to be separately licensed for Type-8 regulated activities. 
Credit Rating Services
Under Type-10 regulated activity, you are required to be licensed if you are preparing credit ratings for dissemination to distribute subscriptions in Hong Kong or to the public. But if you're credit ratings only for your internal use that includes the internal system of the bank for the assessment of counterparty risks, then you are not supposed to come under the tag of 'providing credit rating services' and hence excluded from the list of being licensed. 
Group Company Exemption
If you are successful in providing services only to your own subsidiaries, your company where all your shares are there, then you are exempted from applying for Type-4, Type-5, Type-6, and Type-9 regulated activity. 
Professional Exemption
If you are a counsel, solicitor, or professional accountant and provide such services and advice are completely incidental to your practice as a counsel solicitor or professional accountant. In that case, you are not required to be licensed for Type-9, Type-6, Type-5, or Type-4 regulated activity.
Broadcaster or Journalist Exemption
If you are working as an informative body and provide information or advice on topics such as securities, corporate finance, futures contracts, or any other reports or analysis on issues through the medium of communication including
Newspaper, books, and magazines which are available to the general public and
Broadcasting on television or radio which are available to the general public, either through a subscription or otherwise..
How To Become Qualified for an SFC License in Hong Kong?
If you want to know how to qualify for an SFC license, then make sure to complete the requirements. Getting an SFC license in Hong Kong is a dependent outcome, and an SFO is responsible for it. It doesn't matter whether you are an individual or a company that wishes to apply for an SFC license. Applicants must be fit and ready. The test which is conducted to determine the condition of firms and individuals before allocating them an SFC license is different in each case. This means that the requirements for individuals are different for that of  firms. Here is a list of considerations to make in acquiring an SFO to determine the credibility of the applicants. 
Solvency and Financial Status
The SFC does favor those firms which have previously failed to comply with any judgment or debts or have failed to meet any capital or financial requirements applicable to them. Individuals who wish to apply for an SFO should not have filed for bankruptcy.
Qualification, Education, and Experience
Individuals applying for an SFC license must present a good academic background along with the proper execution plan for their potential growth. Applicants must prove themselves responsible and innovative contenders who can work efficiently. To prove the academic background of the applicant, he or she can show any professional degree in accounting, business, law, finance, administration, or economics. To evaluate the educational value of the applicants, the Hong Kong securities institute has introduced a range of licensing exam papers for the same. Test series involve 1 to 6 papers for evaluating local regulatory framework knowledge and paper 7 to 12 for recognizing the technical knowledge of the candidate.
Competence
Both applicants must provide proof to show the ability to regulate competently, honestly, and fairly towards the laws and regulations.
Reputation, Character, Reliability, and Financial Integrity
We all know that having a bad reputation regarding your business or firm can cause many limitations, even while applying for an SFC license. For individual applicants, it is advisable to check that there should be no director disqualification or that the individual should not be disqualified by any professional related to trade or business.
Identify MICs
It is compulsory for a licensed corporation to hire an individual as manager-in-charge for the following functions, 
Overall management
Key business line
All the operational and review control
Management of risk
Finance
Accounting
IT information technology
Compliance
Anti-money laundering
Counter-terrorist financing
Minimum of 2 ROs
A corporation that is licensed under SFC must appoint at least two officers who are responsible for supervising all the regulated activity for which the company is being licensed. One of the two officers must hold the position of executive director.
How To Apply for an SFC License in Hong Kong? 
Once we know almost everything regarding the SFC license, it is time to know about SFC license requirements.
Required Documents for SFC License
For filing the application for an SFC license, applicants must pay the registration fee along with the documents, including,
Business plans
Compliance plans
Application form and
Other supplementary materials
Timing
After learning SFC license requirements, you must think about how much time is needed for SFC to grant the license. Well, that is not fixed; rather, there are certain factors on which the process usually depends, such as, 
Service or product type
Quality of your application
Quality of provided documents
Changes required for your application.
Required time for the individual to have a hong kong employment visa 
Time required for capital injection
Time for other regulatory bodies to respond to the application form
Time is taken by you to provide any further documents.
Number of applications
However, there is an estimated time required for the same, 
15 weeks for licensed corporation application
10 weeks for responsible officer application
Responsible officer application
An application for a normal licensed representative takes eight weeks
7 working days for Provisional licensed representative application.
Need Any Expert Assistance in Forming or Managing Your Hong Kong Company?
Being a startup business owner must be exhausting and tiring! We know, right? Well, we are offering our customers some amazing services where our experts and professionals will help you manage all your work related to your business. We provide bookkeeping, consultancy, tax management, and many such services that can make the process of business formation a bit difficult.
If you have any queries regarding company tax and accounting or need assistance, reach out to us! We are here to support you with business registration, mail forwarding, accounting, and bookkeeping services. Remember, we're just a call away! So, what are you waiting for? Get your company registered in Hong Kong with professional assistance now! Contact Stratupr and grab amazing deals!