Starting or buying a shelf company in Hong Kong can be a great solution for you for different reasons. Investors that set up shelf companies in Hong Kong usually look to sell them as raw companies for a profit to anyone interested in starting a business immediately. On the other hand, if you want to open your own business in Hong Kong without waiting on all the bureaucratic processes, your best shot would be purchasing a shelf company. When you buy a shelf company, you're essentially buying a ready-to-go product that has already been set up by whoever is selling it to you. Hence, you won't have to go through the initial steps of a brand-new business. If you're still not sure about the difference between a shelf company vs. a new company in Hong Kong, this article will outline everything you need to know about what shelf companies are, their benefits, and how to set up one in Hong Kong.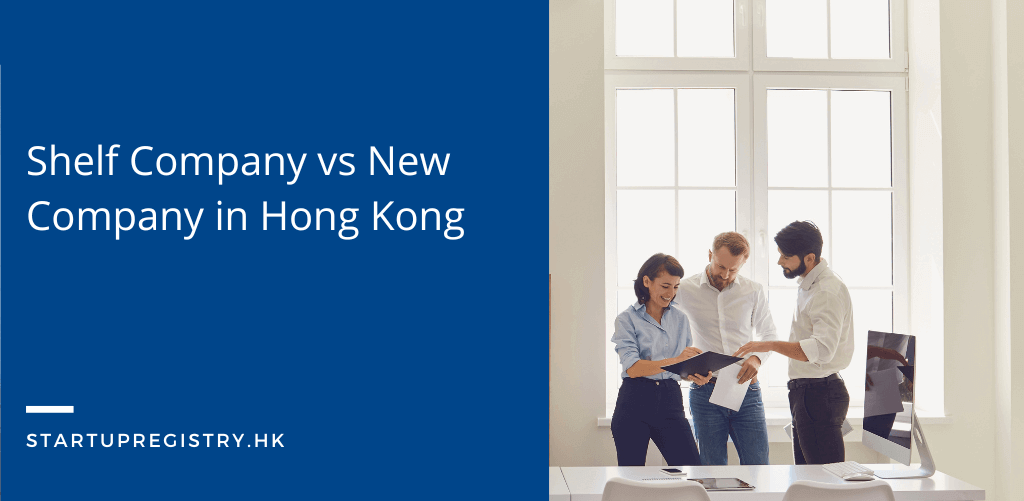 Shelf Company in Hong Kong
Hong Kong offers many benefits to foreign investors, including the option to purchase or set up an HK shelf company. A shelf company in Hong Kong, also known as a shell or aged company, will come with a Certificate of Incorporation. Due to this, the person who purchases it doesn't need to go through many legalities before they can conduct business. This means that you can be sitting in any country around the world and easily open or buy a shelf company in Hong Kong.
What is a shelf company?
A shelf company is a ready-made company, which means the company has already been registered, incorporated, and set up to begin its business. The idea of a shelf company was introduced so that people who wanted to start their business instantly could purchase one and avoid spending days or weeks opening a new company. It is meant for entrepreneurs and investors who want to start their business activities instantly. The characteristics of a shelf company in Hong Kong include the following:
The company has previously been registered, and no further legal work is left. Documents such as the Business Registration Certificate and the Certificate of Incorporation issued by the Companies Registry have already been issued.
A shelf company has never been engaged in any previous business activity.
It's convenient for business owners with an urgent need to start a company, as it cuts down on the registration process.
Business owners can still change the company's name and appointed directors according to their own needs.
Buying a shelf company is usually a better option for foreign investors who are interested in reducing the time in the opening procedure of a new company. Another main reason for investors to go for an off-the-shelf company is the level of credibility one has to offer. 
Benefits of shelf companies in Hong Kong
At the beginning of this article, we briefly talked about why opting for a shelf company would be the best option for new business owners in some cases; we are now going to expand in more detail with the below list of benefits of buying a shelf company in Hong Kong:
Fast and easy process – Buying a shelf company is easier and a lot faster than opening a brand new company since it's already registered and ready to operate.
Avoid the initial process – A shelf company would have already been registered to the Companies Registry when ready to be purchased. So, the only thing you'll have to do before starting your business is paying the set fee for the shelf company. This way, you'll avoid all the interminable formalities usually involved when starting a new business.
Focus on operating the business – Not having to go through all the initial bureaucratic procedures will steer the main focus on the essentials of the business.
Create a sense of confidence – Business investors that purchase a shelf company are allowed to operate their business under the same name the company was initially registered with. This helps in gaining the confidence of all the shareholders and encourages them to invest in the company. 
Open a business bank account – Shelf companies have far more credentials than a brand-new company, even with banks. For this reason, owning one makes the process of opening a corporate bank account much easier. Whether you'd like to open a local or international bank account, Startupr can help you with that.
Pros and Cons of a Shelf Company
Although purchasing a shelf company is a faster way to start your business, there are many additional things that can become a roadblock for you. This is why it is a good idea to understand both the negative and positive aspects of purchasing a shelf company.
To help you better, here is a list of the pros and cons of a shelf company:
| Pros | Cons |
| --- | --- |
| The waiting period that goes into setting up a new company will be cut down. You can begin your business activities as soon as the transfer takes place. | The cost to purchase a shelf company is a lot more than to open a new company on your own. The older the shelf company, the higher the price. |
| An aged shelf company is a great option if you want to gain more trust from your customers and suppliers. | Since the shelf company has already been registered before and has an anniversary date, the day you purchase the company can be close to the next anniversary when you will also have to purchase the renewals. |
| Focus on starting and growing your business and let go of the stress to manage the registration process. | The business comes with a pre-defined name, structure and everything. If you decide to change anything, it will cost you both additional time and money. |
New companies in Hong Kong
Experts and open-oriented jurisdictions advise foreigners to set up new companies in Hong Kong due to the multiple benefits that it offers. Here are some of the main benefits of opening a new company in Hong Kong:
Exquisite tax system – Hong Kong has a very attractive tax system and is considered a tax haven in Asia. It has the lowest tax rates and very straightforward tax laws. Both businesses and individuals benefit from the multiple tax benefits that the city has to offer. 
Free economy – Hong Kong is the freest economy in the world as it offers trade and monetary freedom. The government is completely transparent about its laws. In addition to this, you can open any kind of business and then open a corporate bank account without any restrictions in Hong Kong.
Access to Mainland China – Getting access to the Chinese market is much easier through Hong Kong. In addition to this, you don't just get access to China, but to all the Asian countries' markets. This makes trading much easier and can help you expand easily. 
World-class infrastructure – Hong Kong is considered as the heart of Asia, which is also why many large MNCs have their main Asian branches in Hong Kong. It has the best infrastructure that supports any kind of business. Hong Kong has a great transport system, and owns an exquisite shipping and telecommunication hub. 
Huge manpower –  Starting a new company in Hong Kong means that you get access to the energetic, flexible, and highly-trained workforce. Although the first language is Chinese, everyone is well-versed with English as it is the second language in the city. Hence, communication will not be an issue here.
Quality of life – If you are planning to move to Hong Kong, then you can be rest assured that you will have the best quality life here. Everything is cheap and reliable, from public transports to internet services. You can enjoy a huge diversity in food and get a beautiful house to live in. Hong Kong also has a great education system for your kids, if you have any or are planning to have them here. 
In short, Hong Kong is a perfect place to start your new company and grow it. And the best way to do that is by opening the company on your own instead of purchasing a shelf company. The more you go through the process, the more you will value it and have all the details set right. With shelf companies, you might have to change things later on and it can cost way too time and money. 
Major difference between a Shelf company and a New Company in Hong Kong
As previously said, the main reasons why someone would choose to buy an off the shelf company in Hong Kong rather than starting one from scratch, are both the lack of registration procedure, and the existing credentials a shelf company holds, giving more credibility to the owner. Once the owner has purchased a shelf company, they can begin with the business operations instantly. If the owner wants to alter a few things about the company, it can be done easily without affecting the business activities.
In fact, the owner can easily apply for a change of the business name, appoint new directors, and make any other important changes needed. Most of the ready-made companies also come with a VAT number and a corporate bank account. It makes the overall process very straightforward, where the owner can start trading immediately.
On the other hand, registering a new company is also a great plan. It has its own benefits, and it all depends on your business strategy and needs. One of the main benefits of opening a new company in Hong Kong is the cost. It does not cost much to register a new company as compared to purchasing a shelf company. Additionally, when you open a new company, you get to select your business name, the business entity type and also appoint the director as per your requirement and right from the beginning of the business. 
You also get to choose the registered office address when registering the company. Startupr can help you from start to end, guiding you in every step of the way to open your new business in less than 5 days. Our experienced team is ready to help with many new biz related services, including Company incorporation in Hong Kong, Business bank account opening, Business address & Mail forwarding plan as well as Company secretary and Accounting services.
How to set up a shelf company in Hong Kong?
It is clear that the process to set up an HK shelf company is quite simple since it does not include the process of registration. As soon as the transfer of shares takes place after the purchase has been made and the sale contract has been signed, the setup process can begin. Since the company has already been registered with the Companies Registry, it does not have to be registered again. But since there has been a change in the ownership, the details will need to be changed as soon as the transfer has been completed. 
It is a general rule that any modifications in the company structure or ownership have to be recorded with the government agencies involved. Unlike the registration process, this process takes about a day or two to be done. Here are the steps to do it:
Pick up about 2 to 3 shelf company names from the list.
Share the shareholder, director, and other company information that you want to add to your company.
Complete all the documents needed to transfer the shares and change the director of the company.
Sign and get the documents stamped before submitting them.
Submit all these documents to the Hong Kong Companies Registry along with the required fee to complete the process.
With this, you will be the new owner of the company.
Documents received with a shelf company
The documents that you will get once you become the owner of a shelf company include the following:
Business Registration Certificate: This is the document that is issued when the company is registered with the Companies registry, which indicates the company has been registered with the Inland Revenue Department, which is in charge of taxes. 
Certificate of Incorporation/Articles of Association: Based on the company's structure, you will get one of these documents. You get a Certificate of Incorporation if the company is a corporation or an Articles of Association if the company is an LLC. This document includes the regulations and details of the company, including the share capital, purpose, company name, shareholder meetings details, and company organisation type. 
Form ND2A: This is the form that reports the change of shareholders and directors in the company. 
Form NNC1: This is the incorporation form, which includes information from the Companies Registry. It holds all the information about the business, including the company structure, company secretary information, registered address of the company, the company's name, and the shareholder and director information, including their passport data and address proof. 
Sale contract: The stamped document notifying the transfer of shares and sale of the company. 
Common seal: the company's metal seal. It also comes with three company stamps, a round seal with the company's name, and a rectangular chop with the company's name. 
Certificate of Shares: The document that is evidence of the ownership of the shares bought during the transfer. 
Once you have received all these documents, you can begin with your business process. By any chance, if you want to alter any other details of the company, such as the company's name and so on, you can do it easily without influencing the company's activities.
Since the company's identity is a very important thing, you can change the name of your business. To do this, ensure that the name is available. In addition to this, you have to avoid some words and follow the basic rules when naming the company. You can use our search option to see if the company's name is available. Even better, you can contact our team, and we will help you in the process of changing your company's name so that you can focus on your business. 
How to setup new company in Hong Kong? 
Opening a new company in Hong Kong requires a few additional decisions as compared to when purchasing a shelf company. These are crucial to set up the parameters of the company so that you do not have to change anything instantly in the next few years.
Requirements for opening a new company in Hong Kong 
To help you understand the process, here are the requirements to start a new company in Hong Kong:
Business Structure: The first step is to choose the kind of business structure that you want for your business, from a sole proprietorship, a partnership, a foreign private company, or an LLC. Each of these business types has different structures based on who controls the company, how many shareholders can be there, the way the company is taxed, and so on. Take professional help to understand this before making a choice. 
Company name: Select a company name for your business that has not been used before and relates to your business. You will have to check its availability before you can use it for the registration process. To do this, use our free company name check tool. This tool has a guide that will help you in deciding a usable business name. 
Companies Ordinance: If you decide to open a private company or an LLC, this point is important. In this, every incorporated company needs to create and maintain a register of all the shareholders/members in the company, and the people who have control over the company. 
Designated Representative (DR): Each incorporated company has to have a DR who will be responsible for reporting things related to the SCR, to the respective local authorities when asked regarding it. 
Directors: This is a requirement for both an LLC and a private company, where they must have at least 1 director of any nationality, at least 18 years, and must not be bankrupt. The members of the LLC can conduct a board meeting and select a director, while the private limited company can conduct a shareholders meeting and select a director accordingly. 
Shareholders: In a private limited company, you need at least 1 and at most 50 shareholders in the company. The director and shareholder can be the same person.
Company Secretary: As per the rules in Hong Kong, you will need a company secretary (mandatory) for your LLC and private limited company, while you will need a professional agent for your sole proprietorship and partnership. A company secretary is responsible for maintaining all the records of the company and ensuring that the company is compliant. 
Registered Address: You need a registered address that will be considered the company address. It has to be a local address in Hong Kong. 
Company Details: All the details added to register a company including the director's details, company details, and company secretary's details, are needed for the filing and will be posted on the public domain once the company has been registered.
Ongoing compliance: Each company structure has a few ongoing requirements that need to be met. Take help from your professional agent to know more about these requirements. If you choose Startupr as your agent, our portal will alert you regarding all the requirements that you need to follow. 
Gather all the details to register your company, fill the registration form, pay the fee and your company will be registered in 1 to 3 days.
How can Startupr Help set up your company in Hong Kong? 
Startupr is known as one of the most reliable company services providers in Hong Kong. With over 17 years of experience and close to a million happy clients, we have always strived to offer the best to our customers. To form your company in Hong Kong through us, visit our website and register for your company online. The process is 100% digital and your e-documents will be sent to you real-quick through our reliable portal. Here are the steps you need to take:
Sign onto our Back Office system.
Select your choice of services.
Share your business information and other related details.
Review the pricing for the services, and choose any additional services that you want including mail forwarding, accounting, virtual office address, business tax consulting, equity management platform access and related guidelines, legal documents assistance, compliance alerts for your company, etc.
Pay the bill and get your company documents in 1 to 3 days. 
Receive regular automatic updates on your account on the back office portal and your email.
Startupr is vast and doesn't just assist in setting up your business, but also in managing it and keeping it compliant till it ceases to exist. We also help with exit plans and the filing of any legal documents required during the company's cessation. In short, you can rely on us completely and for anything. Contact us to know more and we will be more than happy to discuss your plans and clear all your doubts.
Ready to start your business in Hong Kong? 
Purchasing a shelf company, in a lot of cases, is a great solution when you want to start your business instantly without the hassle of registering it. However, different shelf company suppliers have different costs, and it can be expensive to purchase one. On the other hand, if you open a new company, it will cost way less than this, and you have the freedom to choose its parameters from the beginning. If you are planning to open a new company in Hong Kong as a foreigner, you will need the help of professionals, especially a company secretary and an agency that can handle all the company formation processes for you. Startupr offers all these services, including the registration service in Hong Kong. Contact us to know more!