Are you thinking of starting an eCommerce business in Hong Kong? Being a record-holder of one of the freest-economies in the world, Hong Kong has become one of the best places to set up an online business. E-commerce is a growing field that offers investors significant opportunities to stay connected with a global audience in a way that was once impossible for brick-and-mortar companies without marketing and financial resources.
Curious to set up an eCommerce business in Hong Kong? Read on to gain insightful information about the eCommerce industry.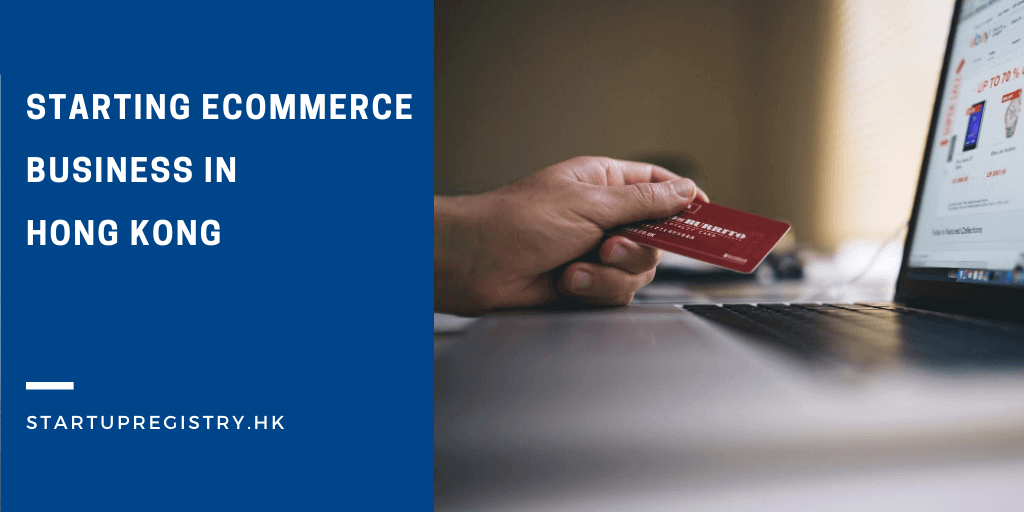 E-Commerce Market in Hong Kong
As more retailers set up their online presence and shoppers are changing their consumption lifestyles and patterns, e-Commerce businesses are developing fast.
Hong Kong has a large domestic sector that offers an array of attractive options for startups and long-term opportunities to scale up in the business. The availability of incorporating agents, high web traffic, and lower tax laws are the factors that attract business owners from all over the world to set up a business in Hong Kong.
As per the statistics by Statista, e-commerce business in Hong Kong alone is projected to generate revenue of approximately US$6,399m in 2020, and expected to show an annual growth rate (CAGR 2020-2024) of 11.1%, following a projected market volume of US$9,734m by 2024. These figures show that starting an eCommerce business would be a good idea for business owners who want to generate great ROI in the coming years. By watching this trend of online shopping, many traditional stores such as Watsons, Chow Sang Sang, and Wing On Department Stores have established online purchasing platforms to increase their presence worldwide.
These figures are a great indicator for eCommerce startups and other online platforms to get a piece of the action.
Why set up an eCommerce Business in Hong Kong?
Here are some of the concrete reasons to set up an eCommerce business in the internet base of Hong Kong:
Advanced IT infrastructure
Setting up an online business and running it successfully in the online economy requires reliable servers, data centers, and every piece of internet infrastructure needed. Hong Kong has all these things to help entrepreneurs to set up their business, as:
Free flow of information – Hong Kong has free flow of information laws where the businesses can easily communicate with their customers online. An eCommerce business can only survive in the market when they are allowed to enjoy the freedom of speed and the free flow of information.
Data Privacy – Data privacy is another area that needs to be adequately followed in the jurisdiction where the company has been registered. In Hong Kong, the data privacy laws are strictly followed, which doesn't allow unauthorized persons or even government authorities to access the data center.
Internet Readiness– Hong Kong has an internet penetration rate of 74%, with almost 5.5 million internet users. This place is consistently ranked as one of the top countries with the fastest online connections worldwide.
High web traffic presence- The majority of Hong Kong consumers prefer to do online shopping. They spend most of their time online researching the company's website.
ICT Talents – To grow your eCommerce business, IT specialists play an important role. In Hong Kong, you will get an array of talent to build a team of qualified IT specialists like engineers, designers, and developers.
Favorable taxation System
Hong Kong has become a favorite place for business owners because of its low corporate taxes and favorable taxation systems. In Hong Kong, companies aren't required to pay corporate tax unless the profits are earned within the territory. Besides this, the country also has zero capital gains tax, withholding tax, and no estate duty/inheritance tax.
The low-taxation system makes the environment suitable for an eCommerce business, which is why Hong Kong is the preferred location to set up shop. In fact, the Inland Revenue Department (IRD) of HK has also made everything transparent regarding how it promotes and strengthens the tax administration processes.
Easy company formation
The process of incorporating business in Hong Kong is pretty straightforward. The owners can easily open their business without actually coming to Hong Kong. Here people can take the help of Startupr. We will help you prepare the necessary documents, register your information, and incorporate your business in Hong Kong.
Low investment cost
An Ecommerce business can be set up in Hong Kong with low-investment costs, which is an excellent opportunity for companies to compete globally. An E-commerce platform is an encouraging and effective step taken by startups to increase their business presence globally. E-commerce platforms allow companies to enjoy the information-like culture and target segments worldwide with the touch of a button. Because of its dynamic environment and low-investment costs, Hong Kong has become a gold mine destination for entrepreneurs.
Efficient banking system
Other than the points mentioned above, the banking system of Hong Kong is pretty efficient as well. Hong Kong has an efficient and sound banking system, where about 71 of the world's 100 largest international banks are here. When your company is properly registered with the government, you can apply for opening a bank account.
Merchant accounts and payment gateways for Ecommerce Business in Hong Kong
A long time ago, online payment gateway providers and merchant accounts were scarce for eCommerce businesses. Thankfully, that isn't the case anymore. Now, businesses have an ample number of choices for online payment methods and gateways. As per the research done by the European foundation, approximately 86% of customers prefer to make online purchases.
With the development of new payment gateways, the eCommerce industry has surpassed the single offering of debit and credit transactions. Whether you want to start a small-sized eCommerce business or a big market store, payment gateways and merchant accounts are core for business success.
What are an eCommerce merchant and payment gateways?
An ecommerce merchant and payment gateways have different functions in the eCommerce industry.
Payment Gateways
A payment gateway is the core component of a business. A payment gateway works like a credit card machine in a sense. It allows the secure transfer of credit card information to the credit card payment network for eCommerce payment processing via the web. Nearly every business needs to accept credit card payments to grow their business, whether from trade show vendors to antique dealers and from big-box retailers to Etsy sellers.
Ecommerce Merchant Account
It is a type of bank account that helps businesses accept multiple forms of payments such as debit, credit cards, and ACH payments. This account is different from a traditional bank account because you can't actually access this account. It will act as a link between the business and the individual card-issuing banks in acquiring the funds and then depositing the funds in the business bank account.
Top ecommerce merchant accounts and payment gateways
There are many eCommerce merchant accounts and payment gateways that allow customers and businesses to transfer their funds and receive them securely. But you need to understand and figure out, 'which option is best suited for your business?'
What kind of features do they offer for your business?
Is it compulsory to opt for a merchant account for your chosen payment gateway?
What is the service cost of the payment gateway?
Does the payment gateway support your online store's country?
These questions will help you find out the best payment gateway for your eCommerce business. Let's learn about them:
Paypal
The first payment gateway that you should know is Paypal. It was founded in 1999 to support online money transfer. This payment gateway is accepted by both credit card and MasterCard payments. It doesn't require any setup expenses, gateway fees, and monthly charges to use it.
Stripe
Stripe is one of the top-most payment gateways that offer merchant's payment processing solutions. Its wide developing tools set this platform different from other payment processing suppliers. This platform can be customized as per the requirements of the business because of its adaptable API.
Amazon
Another payment gateway that you should be aware of is Amazon that offers a simplified and secure payment service for the customers. The services of this platform can be accessed by merchants as well as customers.
Wepay
WePay is another online payment service provider that offers a customizable and integrated payment solution to business owners through its APIs. It also offers partners fraud and risk protection.
Neat
Neat is a modern alternative option to traditional banks. It is designed to support businesses all over the world and also building a dynamic and frictionless economy.
Payoneer
Empower your business, and online sales with the Payoneer cross-border payments platform. This platform is the most trusted payment gateway with more than 4 million customers to receive and manage their international payments.
Alipay, Alibaba account
Finally, Alipay is another famous payment gateway that businesses use for their online transactions. This payment method works like the "eWallet" services for adding payment methods such as cash or bank accounts to the Alipay account.
Amazon Ecommerce Business
If you are thinking of setting up an eCommerce business in Hong Kong, then Amazon is the marketplace for merchants who want to go internationally. It is a potential marketplace that allows business owners worldwide to sell their business online and generate leads.
For decades, business owners from all over the world have benefitted from Hong Kong when exporting and importing goods. Strategically located next door to Mainland China, businesses buy products from Chinese factories and sell it internationally via the Amazon platform without all the complexities and headaches. Whatever your nationality may be, Amazon allows you to sell your products globally with ease.
Steps to Form an Ecommerce Business in Hong Kong
By now you may have a better idea about the different payment gateways and merchant accounts that are used to process money. If you are interested in setting up an eCommerce business in Hong Kong, certain steps need to be followed. Although there are notable differences in setting up an eCommerce business compared to a traditional physical business, there are some similarities too such as choosing a business name, incorporating the business, and opening a bank account. Explore the steps to form an eCommerce business in Hong Kong:
Research your eCommerce space and niche
The first step to start an eCommerce business is to research the space and the niche in which you want to set up the business. For this, you will have to start figuring out your business idea. In order to develop a business idea, you need to start questioning about your business needs and requirements. Below are some questions that you should ask yourself:
What kind of products or services do you want to sell?
Where do you want to source your products?
What type of business model do you want to set up?
What will be your startup costs?
Are there any regulations attached to the products/services you want to sell?

Choose business type and name
Once you have a solid business plan for your eCommerce business, the next thing that you need to do is to choose a unique name. The selected business should be unique and clearly state your business operations. After you have selected the name of your business, the next thing is to choose the business's legal structure.
As per your business objectives and requirements, you can choose the business structure as a Limited Liability Company, Sole Proprietorship, Partnership, or Foreign company office. If you need help in deciding the business structure that best suits your business requirements, you can take the help of Startupr. We will help you choose the best structure suited for your business size and nature. The business structure would define your exposure to liability, taxes, and even the ability to run the business and raise capital from investors.
Incorporate your company
As soon as you are done selecting your business name and structure, you need to incorporate your company in Hong Kong with the Companies Registry. Startupr can help you to incorporate your business in Hong Kong in a matter of days.
Get the necessary license and permits
After you have successfully registered your business in Hong Kong, you need to obtain the necessary licenses and permits for your products and services you want to offer in the market.
Open a business bank account
Now this is the time to open a business bank account for your eCommerce business in Hong Kong. Opening a bank account in Hong Kong is slightly tough, but with the help of Startupr, you can be guided in the right way from the various bank account options we offer.
Choose ecommerce platform and create website
By now, you have legally registered your business and have started your eCommerce business operations. It is high time to create a website for your business and select an eCommerce platform. As most of the steps to set up an eCommerce business are the same for brick-and-mortar business, instead of looking for a physical space, you will need to start creating a website and an online store.
The website will act as the face of your business. It is what your customers will first see and what they will browse to see your products and services. By keeping this in mind, you start to create a unique and appealing website. Checkout our options for a virtual office setup or mail forwarding plans!
Source and list your products
Once you have chosen the eCommerce platform and created your website, another step that should be followed for setting up an eCommerce business in Hong Kong is sourcing and listing your products. Fortunately, by now, you would have already known about your products and services that you want to sell when you performed your research in step one. So, now you would only need to list them in your business.
Market your business
And last but not least, the step that needs to be followed to start an eCommerce business in Hong Kong is to start marketing your business. Now, you have listed your products and services on your online store, and you are ready to start serving customers.
So, here you would need to start attracting customers towards your business. There is an ample number of marketing strategies available such as word of mouth, Google ads, SEO, social media marketing, and much more. You can also start optimizing your website as per the SEO norms and benefit from any online marketing tools to increase your website rank in Google.
Looking to start an ecommerce business in Hong Kong?
If you are really ready to set up an eCommerce business in Hong Kong, Startupr can help!. We will help incorporate and register your business in a matter of days. We will also help you in maintaining your company in good standing and managing the annual compliances and company filings. For more information, feel free to contact us!