Gone are the days when you had to visit a bank to get your account opened or raise issues regarding banking. The traditional bank operation across the globe has evolved in recent years, offering numerous digital services related to banking. Neobanks are ruling the world by allowing you to do anything with banking in the comfort of your home. All you need is a mobile phone and a stable internet connection to get started. Hong Kong is swiftly adapting to this new banking system only next to Mainland China and Germany. Neobanks in Hong Kong may soon hit revenue of HKD7 billion by 2025. 
This article aims to give you a comprehensive idea of the difference between a Neobank and a traditional bank, what the benefits of Neobanks in Hong Kong.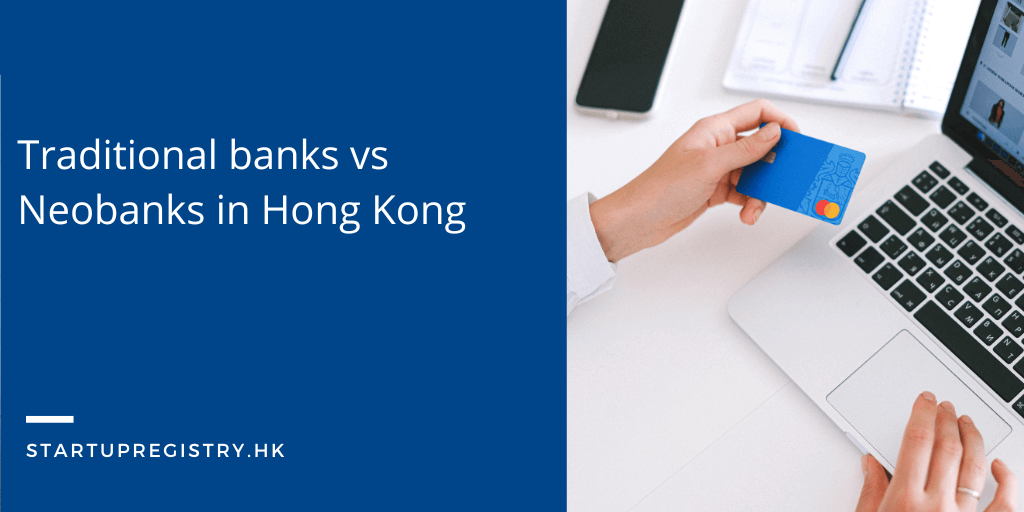 Traditional banks and neobanks in Hong Kong
There has been a never-ending debate about the benefits and operation of traditional banks and Neobanks ever since the accessibility to the latter was made easy. Read on to know why they are different and what banking system suits your business better.
What are traditional banks?
A traditional bank is a licensed bank with physical branches and headquarters with employees assigned to operate different functions catering to customer needs. They are equipped with ATMs and Cash depositing features and service centers to meet your banking needs. You can see most of these traditional banks with online banking facilities today to improve the banking experiences of the public. 
Pros and Cons of traditional banking
The advantages of following a traditional banking system are:
It is the safest option to save and deposit money from the perspective of the public.
People trust these banks better because of their reputation and security.
Cash depositing facilities are better than traditional banks.
Connecting with the staff to resolve queries and handling money is a need of the customers.
The disadvantages of choosing a traditional banking system in today's world are:
You must visit the branch to open an account or have to address issues regarding money 
There is a huge list of documents you must carry for verification during onboarding
A minimum of at least two weeks is required to activate your account and keep it running
If you want a business account, the required documents can be endless.
The is less transparency in traditional banking
Cross-country business dealings are very difficult.
The fee is relatively higher.
What are neobanks?
Neobanks are virtual banks that function solely on banking software and applications. These banks are technology driven and offer every service and solution only through mobile applications or websites. Neobanks offer retail services by securing their license or working in partnership with other licensed banks. They have individualized safety mechanisms with modern financial technologies thus offering a convenient user experience.
History of neobanks in Hong Kong
The first-ever batch of virtual banks was approved by the Hong Kong Monetary Authority (HKMA) in 2019. The HKMA has provisions for regulating these virtual banks based on the following criteria. 
There is no requirement to have a minimum balance.
The virtual banks must have a physical head office in Hong Kong.
One of the bank's primary activities must include retail banking.
The first three banks approved by the HKMA were the ZhongAn bank, the Standard Chartered bank, and the Bank of China in Hong Kong. The onset of virtual banks certainly has been a revolution amidst the traditional banking systems followed in the region.
Pros and Cons of Neobanks
The advantages of neobanks in Hong Kong include the following reasons.
There is no need to visit a physical branch to open your bank account.
There is very low human labor involved
Neobanks ensure work is done in minutes
There are tracking tools to warn you about expenses and reminders to pay bills on time.
The security is high thanks to the employment of biometric, voice, and face recognition software.
You can enjoy privacy when dealing with a huge amount.
Customer service is accessible round the clock.
The disadvantages of using virtual banks are as follows.
You may at times feel the lack of human connection when trying to explain your query or dealing with a banking issue
Usage of multi-currencies in business can sometimes pose a challenge
Technology can fail us sometimes
Depositing cash can be a challenging task
Difference between traditional banks and Neobanks
Here is an easy illustration of the difference between neobank and traditional bank for your quick understanding.
| Neobanks | Traditional banks |
| --- | --- |
| Purely online | Have physical branches but also offer online services |
| No minimum balance required | The minimum balance limit varies according to the bank |
| Digital-only onboarding and operation | Opening an account requires branch visit |
| Low service fee (sometimes free) | High service fee |
| Has restrictions in access | Accessible to any client |
| Transparent services and charges | Lack of clarity in operation |
| Online customer support | Customer support offered both online and in-person |
Perception and Stats of traditional banks vs neobanks in Hong Kong
A Statista report from July 2021 says that 80% of the people taking part in a survey would choose traditional banks anytime as their main bank. 44% feel that the customer service is more satisfactory with the traditional banking system. As far as operational convenience is concerned, there was an equal preference for both neobanks and traditional banks. 48% of the survey population chose virtual banks as a banking system offering lower interest rates. The adoption rate of virtual banks in Hong Kong is 14% in the last year, out of which 47% of the business population is looking to leverage fintech innovations to market and monetize their products and services. A PWC study in 2019 showed that 64% of the people in Hong Kong see traditional banks as a safer option.
Neobanks in Hong Kong
Now that you know how neobanks in Hong Kong work and how people perceive the transition, you should know the benefits of Neobank and why they are different from the other banking systems.
Why should you choose neobanks over traditional banks in Hong Kong?
Neobanks have several perks to offer the public, like Swift transactions and simple procedures to follow. It is recommended to have research-based guidance on your needs, business situations and financial literacy before you choose these virtual banks. Three of the most effective benefits of Neobanks are explained here.
Convenient banking system – The digital-only banking method offers you simpler ways to submit your documents and open your new account online in the comfort of your home. You can operate your international business accounts from any part of the world. You get access to instant loans and digital credits with zero paper works.
Affordable and cost-effective – You will be charged minimally to choose the right banking partner and can also experience smooth banking transitions. All the budget that would otherwise be allocated to paying rents and utility bills will now get transferred as cost-reduction benefits to the customers.
Personalized banking – Virtual banks employ AI tools to garner customer data and use them to customize services based on your financial needs. These tools help you track your expenses and loan due. They send warnings when you exceed your expense limit or run out of funds. An effective banking system also lets you detect fraud during transactions.
Open your business bank account with Startupr
With the trend of neobanks in Hong Kong changing the banking systems, every business needs customized access to cater to their convenience. Opening an international bank account can help you leverage numerous banking benefits with easy approvals for your business. At Startupr, you can do anything from incorporating a company to opening an overseas banking account with speed and accuracy. Get in touch with our team of experts today to have any queries resolved in a matter of minutes!