The process of opening a business in Hong Kong includes making a lot of important choices that are needed to help the business grow and become successful, like determining its entity structure. A business structure affects everything in the company; it dictates how the company will be taxed, who will control it, its exposure to lawsuits, etc. One of the simplest and best business entity types is a partnership. If you are not familiar with the topic, or you're thinking of opening a partnership in Hong Kong, keep reading below – we'll explain everything you should know about it!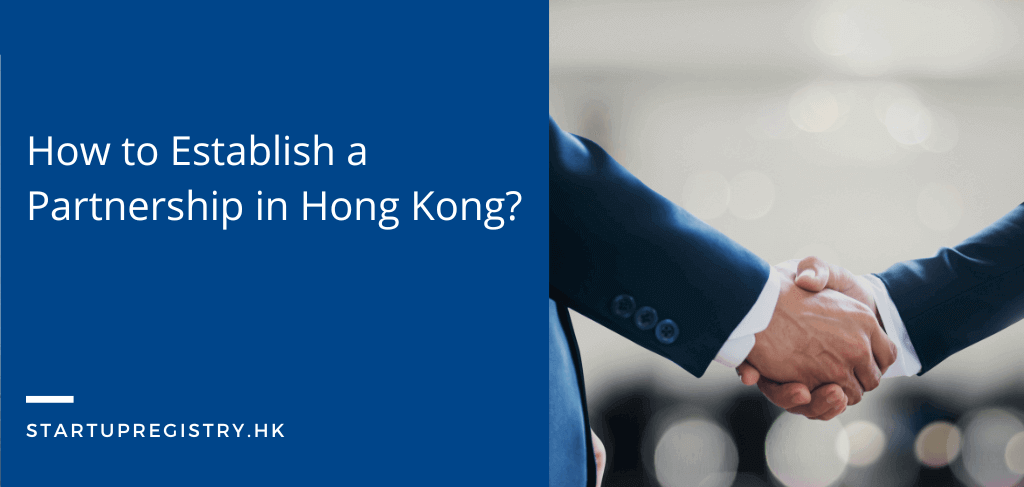 Partnership in Hong Kong
All the business entity types fall under two categories: Limited companies and Unlimited companies. An Unlimited company can begin its business without registering with the government. A Limited company instead, has to get a business registration certificate and complete some additional processes to prove that it is a limited company before it can start any business. Partnerships can be both Limited and Unlimited in Hong Kong. 
What is a partnership in Hong Kong?
A partnership in Hong Kong is when two or more people come together and start a business with the same goals and views in mind. These people work together to share the profits earned through the business. Before a partnership is created, all the interested parties come together and verbally agree on the management and profit-sharing terms. And although there are no such legal requirements for a partnership to document the agreed terms, it is advised to prepare a Partnership Agreement that documents such terms. This is done in order to avoid any possible future conflict.
The people involved in a partnership – the partners- have shared responsibilities, such as investing capital or raising capital for the business. However, since no partnership is an actual, registered company, it does not have separate legal personalities. This means that every partner, within a partnership in Hong Kong is responsible for all the liabilities and debts of the business. So, when the company loses money or goes into debt, the partners will have to pay off all the debt with their personal assets. 
Additionally, each partner can also be held responsible for the actions of another partner, since they are considered to be one unique business. So, if one of the partners is involved in a lawsuit, all the other partners can also be dragged into the same lawsuit even though it has nothing to do with them.
Furthermore, a partnership in Hong Kong can have at least two partners and, at most, 20 partners. As soon as the number of partners increases and exceeds 20, the company can no longer be a simple partnership. In such a situation, the founder will have to get the company registered with the government, where all the partners become shareholders in the company. 
Types of partnerships in Hong Kong
Company Partnerships are managed by the Hong Kong Partnership Ordinance. There are two kinds of partnerships two people -or more- can initiate in Hong Kong:
General Partnership – A general partnership means that the involved partners are not protected by the law and are personally liable for all the debts in the company. Each partner can easily be held responsible for the other partners' actions within the company. The partners of a general partnership can begin their business activities instantly without many legal requirements. In short, a general partnership is much easier to set up. They are highly flexible and can be managed without much stress. This is mostly because a general partnership has very few statutory controls and laws to follow as compared to the other business structures. There are no audits needed. The partners will only have to file their personal income tax return and do not need to register.
Limited Partnership – For a company to become a Limited Partnership, it needs to be registered with the Hong Kong Companies Registry before it can conduct any business activities. Once the Certificate of Registration has been issued, the partners can then begin their business. A Limited Partnership is required to follow a set of laws defined by the Hong Kong Limited Partnership Ordinance. It should be noted that a limited partnership will still have general partners, who would have unlimited liability, just like in a general partnership. The general partner will be the one involved in the company's decision-making process. On the other hand, all the limited partners in the company are in charge of investing in the company and do not make any decisions for it. However, a limited partner isn't liable for any of the company's debts and can be replaced in the company at any time without the need to dissolve the partners. 
General Partnerships vs. Limited Partnerships
Here is a table to help you understand the difference between a limited partnership and a general partnership in Hong Kong:
| General Partnership | Limited Partnership |
| --- | --- |
| A general partnership in Hong Kong only requires a verbal agreement between the partners before it can begin its business operations. | A limited partnership must file a certificate of registration with the Hong Kong Companies Registry before conducting any business activities. |
| All partners are general partners, and the responsibilities are spread equally among them. | The company's operation is handled by the general partners, and investment is handled by the limited partners. |
| General partners have unlimited liability. This means their personal assets can also be used to pay off the company's debts. | The limited partners share the liabilities and losses based on their investment amount, while the general partners have unlimited liability. |
How does a partnership work in Hong Kong?
A business partnership in Hong Kong can be structured in many different ways. However, the main characteristic of a partnership is when two or more people own a business together.
To help you understand how a partnership works, below are some generic key characteristics of one in Hong Kong:
Business liability – As already mentioned, one of the main characteristics of a partnership in Hong Kong is that general partners are responsible for all the business liabilities, debts, and fraudulent actions of another partner. 
Separate legal identity – Since partnerships are not incorporated with the government, this business entity does not have a separate legal identity. In other words, the owners and the business are considered to be the same. 
Ease of expansion – Partnerships rely on the funding invested by the partners in the company. Both general and limited partnerships can raise capital through loans or by adding more partners to the company. However, limited partnerships have a better chance of raising capital than general partnerships due to the limited protection for the limited partners. 
Perpetuity succession – General partnerships have an unlimited life as long as there is a living partner in the business. Limited partnerships also have an unlimited life since a limited partner can be replaced or left without the need to dissolve the partnership. 
Transfer of ownership – Partnerships cannot be sold as a whole since it is made up of more than one person. It can only be transferred by selling each partner's assets. In short, it is difficult to transfer the ownership of a partnership. 
Taxation – All the profits and losses of the business have to be reported in each partner's personal income tax return. And the profits earned are taxed at the rate of 15%. Nonetheless, if one of the partners in a limited partnership is an entire company, the partner company -only- will be taxed at 16.5%.
Public perception –  Partnerships do not have a high standing and are not considered serious businesses by the public compared to incorporated businesses. This makes it difficult to hire great talents, raise capital and build a reputation. 
Dissolution – The process to dissolve a general partnership and a limited partnership is different. For general partnerships, the partners will need to sell off their assets and then notify the Inland Revenue Department about the end of the business. On the other hand, limited partnerships have to follow the same closing process as a private limited company. Many legal formalities are involved, and it is an expensive process. 
Advantages of a partnership in Hong Kong
If you decide to start a business partnership in Hong Kong, you need to know everything that comes with it. Both the good and bad. With this said, the advantages of starting a partnership are:
A partnership can have a minimum of two to a maximum of twenty partners. Once the number of partners exceeds 20, the company must be incorporated.
It is effortless to set up a partnership, and the startup cost is relatively low. This means that all the capital can be used in the business.
There are limited external laws that affect the business.  
The income can be split easily, which is a huge advantage for everyone since it helps in saving a lot of tax. 
All the business affairs of the partners in the business are kept private.
The business entity structure can be modified as the company grows and situations change. 
Disadvantages of a partnership in Hong Kong
Just like there are positives to starting a partnership in Hong Kong, there are some disadvantages too. Here are some:
The partners are directly liable for the company's debts and other liabilities since it is an unlimited business. This puts their personal assets at risk. 
Partnerships have a huge risk of friction and disagreements among the partners. Moreover, all the decisions that need to be made in the business will require the approval of a majority of the members, which usually leads to discussions and arguments. 
Each partner can easily be held accountable for another partner's actions and liability in the partnership. 
In case one partner leaves, it becomes important to value every asset in the partnership. This can be expensive for the business. 
How to form or register a partnership in Hong Kong?
Now that you know everything about a partnership let's discuss the steps you need to follow to register your partnership in Hong Kong.
Step 1: Choose a business name
The very first step for starting any business is to select a business name. The business name that you choose will become your brand, and your customers will recognise you by it. As per the Hong Kong rules, your business name has to be unique and should follow the rules set by Hong Kong's Companies Ordinance. 
You can choose a business name that is in either English or Chinese. Along with this, the name cannot have any incorporated terms that will mislead the public that the company is an incorporated one, such as LLC. You cannot use words that connect the business to any legal, public, or governmental body if it doesn't.
Step 2: Register the business name
Once you have selected the business name for your business entity, check if the name is available by using the Business Name Search Engine on Startupr. Your business name has to be unique and cannot be similar to any other business that has been registered in Hong Kong. Due to this, it is always better to prepare a list of names that you would like to use so that you do not have to keep repeating the steps again and again. 
After you check the name and it is available to use, the following step is to register it with the government. This is important if you don't want to risk having other businesses use your company name. When you register your business name, it becomes a trademark, and no one else can use it. If you do not do it, it can cause a lot of issues for you and your business. 
Let's assume that you do not register the business name, and a company decides to use the same name as their business name and registers it. With this done, that business can easily place a lawsuit and sue your business for using the same name as theirs. And since their business name has been registered and yours not, they'll win, and you might end up losing everything. Hence, register the business name as soon as you select it!
Step 3: Get the required licences and permits
Based on the type of business you will be conducting and the location of the business, you might have to get some additional licences and permits. For instance, there can be zoning issues, where you need to get a zoning permit before you commence your business. On the other hand, if you are going to sell products or services, you will need to get a sales permit. Get in touch with your local registration agent to help you with this. If you do not know where to go, Startupr is here to help you. Get all the needed licences and permits beforehand to avoid any lawsuits and penalties that might come your way in the future. 
Step 4: Choose a business structure
Choosing a business entity is an important step when opening a business. It defines how it will be structured, the rules it will follow, and how it will be taxed. You can choose if you want to own a partnership or a limited partnership. If you decide to start a limited partnership, you will need to register the business with the government. In such a case, you cannot commence your business activities unless the business registration certificate is issued to you. 
So, if you decide to open a general partnership, skip steps 5 and 6 and go straight to step 7. On the other hand, if you have decided to establish a limited partnership, move to the next step. 
Step 5: Prepare the required documents
The next step is to gather all the required documents and hire a registered agent before you can fill out the form to register your business with the government. A registered agent is a local person or agency that will be in charge of receiving the service of process (SOP) when the business entity is a part of any legal action. Look for a decent registered agent and hire them. Normally, registered agents help with the registration process. Startupr is a registered agent in Hong Kong and offers help with the registration process too. Our team will help in setting up your company and managing all the other legalities accordingly. Contact us to know more!
Once your registered agent is ready, gather all the required documents and information that will be filled in the form. This includes each partner's details, legal IDs, the business details, including the business name, business entity, address, contact details, and so on. You will also need the registered agent's details, including their name, contact, and address.
Step 6: Fill out and submit the application form
With all the information you have gathered, move to the next step and fill out the form for your business registration with the Hong Kong government. If you hire a registered agent who offers this service, they will handle the same for you, and you can easily focus on starting the business and other important tasks. 
If not, fill out the form and submit it to the Companies Registry's office. The address will be provided on the form. You can either submit it personally or by mailing the form. Remember to include the fee with the form. It normally takes about 3 days to a week, and the business registration certificate is issued to the business address added to the form. In case there is any mistake or issues with the form, it can take longer. 
Step 7: Draft a partnership agreement
The last and final step before you commence your business is to create a Partnership Agreement. If you are a general partnership, you are not obligated to create this agreement. However, it is advised that you prepare one to avoid any disputes and major issues in the future. On the other hand, if you are a limited partnership, it is required by law to have a partnership agreement. Hence, work on the agreement by layout the details of each person's roles and how the partnership will work, the profits and losses distribution, who is in charge of what, and so on. 
After you have completed all these steps, your business will be ready to start!
Get Startupr's assistance with forming a partnership entity in Hong Kong!
With everything clear about partnerships in Hong Kong, you can now start your business. Partnerships are quite a convenient business entity type, but only if they are set up and operated efficiently. They usually require less paperwork and are simple to set up. If you are ready to set up your partnership in Hong Kong, look no further than Startupr. We offer company registration and incorporation services for any nationality. All you need to do is contact us and book a free consultation to discuss your dream business plan. Contact us today, and our team will be more than happy to assist you!