One of the leading centers for both finance and commerce is Hong Kong. It is a gateway to investments in China and the rest of Asia. You can easily incorporate Hong Kong companies with the name of your choice. With so many amazing facilities, it is easy to form businesses in Hong Kong. Though Hong Kong is the most vibrant city when it comes to business, we all know 2020 has been rough on almost all of us. Let us check how much or how little 2020 has affected Hong Kong Company registration and formation statistics.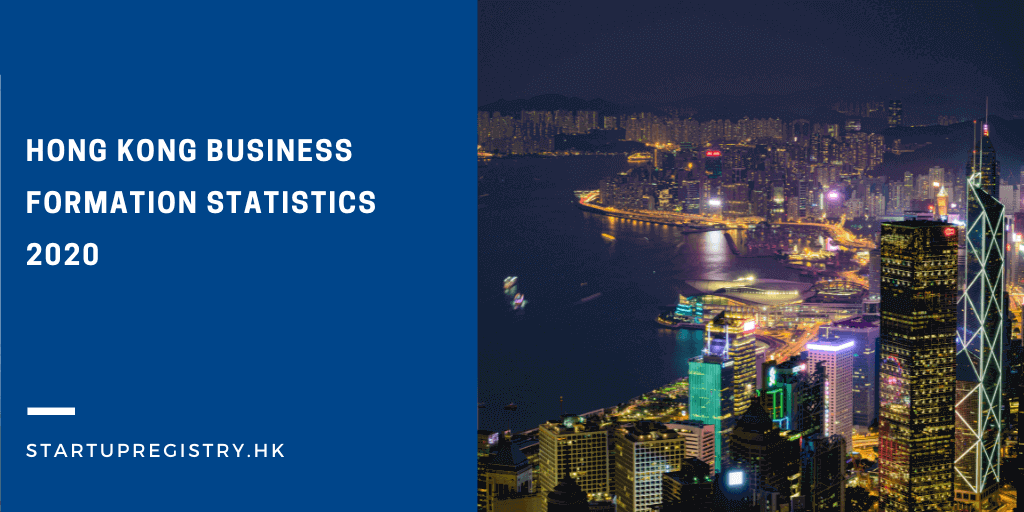 Companies Registry releases Hong Kong business formation statistics for 2020 
According to the statistics released by the Companies Registry, the total number of local companies registered under the Companies Ordinance increased by 7734 from 2019, with a total of 1,387,919 by the end of 2020. Many companies were newly registered. Figures show that 99405 local companies were registered. There was a huge number of online registrations this year. Out of 99450 registrations, 51,340 were incorporated online. Therefore, a large number of people used the e-registry or the "CR eFiling" mobile application for Hong Kong company registration.
Number of Local Companies that has Remained Registered on the Companies Register
The table below shows the data from 2015-2020 for the number of local companies that have remained registered on the companies register.
2015
2016
2017
2018
2019
2020
Public companies
634
676
725
762
821
882
Private companies
1,275,310
1,327,433
1,369,614
1,386,054
1,364,591
1,371,632
Guarantee companies
12,722
13,114
13,607
14,134
14,773
15,405
Total No. of local companies that
has remained registered on the Companies Register
1,288,666
1,341,223
1,383,946
1,400,950
1,380,185
1,387,919
Source: Companies Registry Statistics
Number of Local Companies Incorporated
| | 2015 | 2016 | 2017 | 2018 | 2019 | 2020 |
| --- | --- | --- | --- | --- | --- | --- |
| Public companies | 35 | 32 | 40 | 38 | 54 | 75 |
| Private companies | 138,228 | 143,967 | 159,239 | 150,738 | 123,700 | 98,371 |
| Guarantee companies | 946 | 884 | 950 | 963 | 987 | 959 |
| Total No. of companies incorporated | 139,209 | 144,883 | 160,229 | 151,739 | 124,741 | 99,405 |
Source: Companies Registry Statistics
The  Limited Partnership Fund Ordinance went live with effect from 31st August 2020. It enabled the investment funds to be registered in the form of limited partnerships in Hong Kong. This new regime has allowed investment funds, including private equity and venture capital funds, to set up and operate in Hong Kong. Once the Hong Kong business formation is done, it further helps in strengthening Hong Kong's competitiveness as an international asset and wealth management center.
The good news is, one can do without the registration fees for annual returns from October 1, 2020 to September 30, 2022. It has been waived off under the Companies (Fees) Amendment Regulation 2020. The fees that are payable concerning the companies' incorporation and registration of non-Hong Kong companies through electronic means have also been reduced by 10 percent.
When talking about the non-Hong Kong companies, 1,757 have newly established a place of business in Hong Kong and performed the Hong Kong company registration process. This is  12.15 percent down from 2,000 in 2019. The number reached 13,752 by the end of 2020 when it comes to the number of registered non-Hong Kong companies. This number is up by 10.07 percent year on year. On the other hand, in 2020, the number of charges on properties of companies for registration was 15,603, which is 22.84 percent down from 20,221 in 2019.  A decline of 16.10 percent was seen in the number of announcements of payments and releases received for registration.
Registered Non-Hong Kong Companies
| | 2015 | 2016 | 2017 | 2018 | 2019 | 2020 |
| --- | --- | --- | --- | --- | --- | --- |
| No. of companies newly registered as having a place of business | 894 | 874 | 1,028 | 1,193 | 2,000 | 1,757 |
| No. of companies ceased to have a place of business | 490 | 920 | 578 | 567 | 567 | 499 |
| Total No. of companies remained registered in the Companies Register | 10,029 | 9,983 | 10,434 | 11,061 | 12,494 | 13,752 |
Source: Companies Registry Statistics
When analyzed, the total number of prospectuses showed a decrease of 4.04 percent from 198 in 2019. The number of prospectuses registered was 190. Stats also depict a decreased number of documents delivered for registration in 2020 by 15.82 percent.
The total number of document image records conducted in 2020 was 4,827,540 using the Registry's electronic search services. The licensing of trust or company service providers under the Anti-Money Laundering and Counter-Terrorist Financing Ordinance, a total of 485 licenses were granted in 2020, and the number of licensees reached 7,161 by the end of 2020.
Register Business in Hong Kong
Hong Kong attracts foreigners from all over the world. People introduce their business in Hong Kong, but there are some extravagant things about Hong Kong that make it so engaging. Thus, making it such an ideal place to live and to do business. The Heritage Foundation and the Wall Street Journal have referred to Hong Kong as one of the world's freest economies. A large number of entrepreneurs are preparing to set up their business overseas, especially in areas like Hong Kong. The main reason behind this shift is to enter the international market and avail various benefits from tax-friendly jurisdictions.
Why do companies prefer to register in Hong Kong?
One of the primary reasons companies prefer to set up business in Hong Kong is its benefits. Hong Kong offers ample amount of benefits, Some of the major ones are:
1. Attractive tax system
Any entrepreneur who plans to set up a business in Hong Kong or any other has a major concern about the given jurisdiction. Taxes and policies are their primary concern. Hong Kong business formation offers the status of being one of the lowest tax jurisdictions in the world. Because of the prevalent business culture in Hong Kong, there is a business-friendly tax and legal infrastructure. Its low-tax regime benefits investors and Hong Kong adopts a two-tiered tax rate for corporate profits:
8.25 percent for assessable profits under 2 million HKD
16.5 percent for the exceeded part
This policy is business-friendly as it is one of the most competitive rates in Asia. There are some corporations in other countries where the taxes range from 17 percent to 30 percent. Furthermore, corporations discovered in Hong Kong can take advantage of a tax exemption by the Inland Revenue Department (IRD). This validation is called Offshore Claim, which is granted under a letter form with up-to-5-year activeness.
To sum up, Hong Kong maintains three fundamental types of tax:
Corporate profits tax: Inward profits are taxed at 8.25 to 16.5%. Outward profits are not taxable.
Salary tax: Only 2% to 17% of assessable incomes.
Property tax: Only 15% on the net assessable value of the property.
Rest some taxes are not applicable in Hong Kong, such as capital gain tax, dividend tax, Value-added tax (VAT), Goods & Services Tax (GST), or Sales tax, Withholding tax, etc. Therefore, a community of budding entrepreneurs can take advantage of such tax regimes.
2. Strategic Location
Hong Kong is located near China. China plays a vital role in accessing the Chinese market. Therefore, the location is strategically located in a way that can benefit many companies. Hong Kong has initiated many measures to position itself as a gateway to China with developments like The Hong Kong Innovation Circle, inspiring Chinese companies to lead scientific research in Hong Kong. Hong Kong is also only a 1-hour drive from the Pearl River Delta which is the world's largest manufacturing zone. This alone offers Hong Kong access to around 450 million consumer markets in southern China alone. Hong Kong's Closer Economic Partnership Arrangement (CEPA) with China undoubtedly makes it the most business-friendly economy to take hold of Asia's future opportunities.
3. Ease Of Doing Business
Hong Kong is perceived as being an easy place to set up a business. You can easily set up your business in Hong Kong in around 3 to 5 days. It is regarded for its excellent infrastructure facilities since business premises are readily available. Foreigners who wish to start a company in Hong Kong can quickly relocate by applying for an appropriate work visa. Hong Kong's company formation process is straightforward and can be completed very quickly.
Startupr can help to Register Your Company in Hong Kong
In case you are stuck at any point, Startupr can help you. Startupr is dedicated and experienced in Hong Kong Company registration. We have set businesses for our clients and can easily assist with yours too. One of the best parts of starting your business with the help of  Startupr is that you will get excellent service and also assistance in growing the business. A separate online Back Office system assists you keep track of all the details of your company and required annual filings, all in one place. You do not have to worry about every little detail of your company. Therefore, feel free and contact Startupr for your next business venture in Hong Kong.