Over the years, Hong Kong has become an important destination for foreign investment and its thriving startup scene. It is expected that foreign investments in the business sector will continue to grow. For companies who want to have a presence in Asia with access to large markets and business advantages such as low taxation, forming a holding company in Hong Kong is a worthwhile investment.
As the region is thriving with new opportunities, the advantages make Hong Kong a valuable location to base a holding company. It is said that more than a third of the world's middle class will soon live in Asia. With the changes in the output of China's economy, Hong Kong has become the ideal place for business because it has the benefits of a western financial center along with all the hard-working values of the East.
If you are thinking about expanding the boundaries of your business in the Asian market, you should know all about the numerous benefits of forming a holding company in Hong Kong. Keep reading to know more!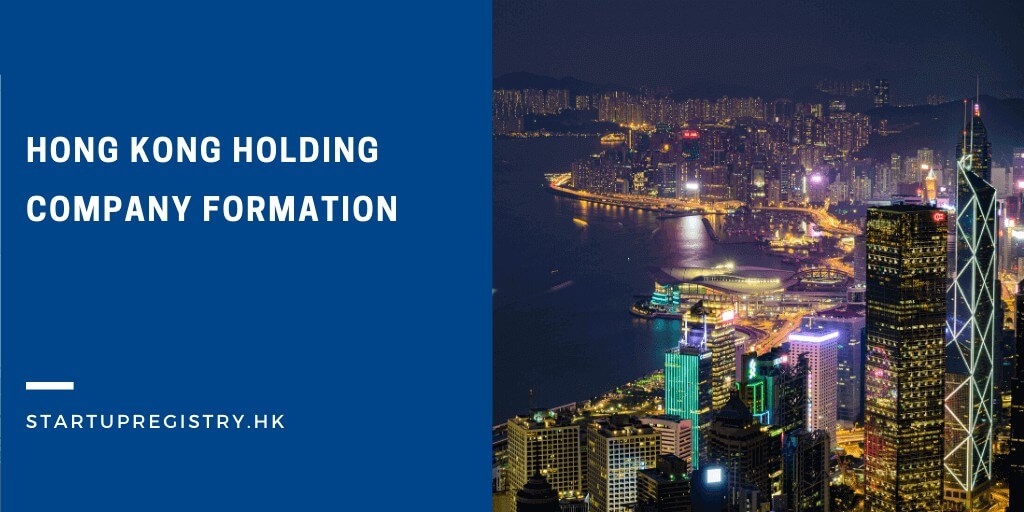 What is a holding company in Hong Kong?
Holding companies are special types of entities which help business owners hold shares and assets of another company or group of companies, without having to conduct business operations. Although a holding company doesn't operate in the same way as a standard business does, they are separate legal entities on their own.
This business entity can also pay dividends to the parent company and also receive them from the subsidiaries. As the economy of China and Hong Kong is growing, holding company formation is becoming increasingly relevant because of the benefits associated with it.
General characteristics of holding companies in Hong Kong
In general, a holding company is launched to engage in economic activities and to purchase and own shares in other companies. This type of firm doesn't involve in most of the group's day-to-day business activities, but owns the majority of shares in a business in order to dictate how that business is run in general.
A holding company is most beneficial for investors looking for a jurisdiction where they can invest and incorporate their business smoothly with less red tape. And when businesses choose Hong Kong for holding company formation, they also can enjoy the city's business friendly tax regime, especially on foreign investment.
The Case of Alphabet Inc.
Let's take an example of Alphabet Inc.
We are all aware of the search engine and computer software company Google. But do you know, Google also underwent major restructuring? In 2015, Google was re-organized as a subsidiary of Alphabet, Inc, a newly formed parent company holding Google and many other related subsidiaries shares.
This parent holding company of Google, Alphabet Inc., has a multinational conglomerate headquartered in California. As it's a holding company, it doesn't operate the business activities as a standard business do. This parent holding company owns a substantial amount of intellectual property through its subsidiaries. It is entirely run by the cash flows, assets, and the earnings of its subsidiaries.
The main reason to form the Alphabet, Inc was with an underlying intention of narrowing the business scope of Google. The core idea to start it to develop better management by operating Google's subsidiaries separately. Now all the subsidiaries once under Google are under Alphabet Inc, and it handles all its diverse portfolio of business. This is a good example of how a holding company can serve as a separate legal entity for helping Google store it's intellectual property, and the group also gains tax benefits from the restructure of the group shareholdings.
Eqvista for share management
While operating different subsidiaries at one time, it sometimes becomes difficult to manage the shareholdings of a holding company. However, using an equity management software like Eqvista helps to manage the shareholders and company equity operations.
The core value of Eqvista is to help companies handle cumbersome work such as issuing shares for your company, cap table management, and other tedious filings. If you are thinking about setting up a holding company, you need to be capable of tracking the shares of your business. And Eqvista can help you with it. Their cap table software aims to simplify the existing complicated infrastructure and simplify it for companies. Sign up for free here.
Why Start a holding company in Hong Kong?
While choosing the perfect location for your investment holding company, there are many factors which should be considered when setting up a holding company in Hong Kong. The business sector in Asia is the fastest-growing region in the world, and setting up a holding business in Hong Kong comes with many advantages. Hong Kong is the main gateway for investment in China, so it makes a sound investment for business owners to set up shop here.
Generally, every business owner wants to incorporate their business in a place where they don't have to face high-taxation charges and endless red tape. This is why startups choose to start their business in one of the freest economies of the world, Hong Kong. The main reasons of choosing Hong Kong for setting up a holding company are as follows:
Capital Raising
Hong Kong offers great capital raising opportunities for a holding company. The costs and risks incurred while operating a holding business in Hong Kong are extremely low as the city provides a stable financial market. The business sector of Hong Kong is purely transparent, and allows an easy gateway to raising capital, both local and foreign for companies.
Taxation System
Another benefit of choosing Hong Kong for incorporating a holding company is the low-taxation regime. As Hong Kong follows a low tax regime, the region charges a corporate tax rate of 16.5% (8.25% of income under HKD 2 million) on the profit gained within the city.
Hong Kong doesn't apply VAT, sales tax, or capital gains tax. Moreover, there are no withholding taxes on dividends and interests. It means that any dividend earned from overseas will not be liable to pay the taxes.
Double Taxation Agreement
Hong Kong has also concluded double taxation agreements with some of the most powerful trading nations in the world. Hong Kong has comprehensive double tax agreements with the United Kingdom, Vietnam, Austria, Belgium, Brunei, Czech Republic, France, Hungary, Indonesia, Ireland, Japan, Liechtenstein, Luxembourg, Malaysia, Malta, Netherlands, New Zealand, Portugal, Switzerland, Spain, Thailand, and the Mainland China. The main aim is to relieve double taxation issues on income, dividends, interest income and royalties. Therefore, Hong Kong holding companies won't face major issues when it comes to double taxation.
Easy and affordable company incorporation
The process of incorporating a holding company in Hong Kong and registering the business is as simple as the setting up of the standard business. Companies don't have to be large to use the region as a base, because there is no minimum capital requirement for setting up a holding company in Hong Kong. It takes approximately 3 to 5 days to set up an investment holding company in Hong Kong. But always make sure that you have the relevant company documents to make the corporation process easier and straightforward.
Access to the Chinese market
If you want to penetrate the Chinese market, then set up a holding company in Hong Kong would be your best choice. Hong Kong is known for being one of the best commercial and financial centers, which speak volumes about a company's ambitions and place in their sector.
Form a Holding Company in Hong Kong
The formation process for holding companies in Hong Kong is quite simple and straightforward. It takes approximately three to five days to complete the incorporation procedure. Forming a holding company in Hong Kong allows easy access into Asia's biggest market and also carries tax advantages. To incorporate a holding company, you do not have to meet any minimum capital requirements and there are no restrictions on the flow of the capital in or out of the city.
The incorporation process is very simple and straightforward. But with any company registration in Hong Kong, there are some levels of paperwork to complete and requirements to be satisfied. These steps are the same as they applied to other types of companies.
First, you need to select the name of your company. It should be unique from other business entities. And the company should appoint a minimum of one director, one shareholder, and a company secretary that must be the resident of Hong Kong.
You also need to gather all the incorporation documents
An adequately finished incorporation form including:
Number of shares taken up by subscribers.
Registered address
Company name
Share capital recorded on incorporation.
Liability of members.
Particulars of shareholders, directors and company secretary.
Brief description of business activities
For resident shareholders and directors:
Copy of residential address proof.
Copy of Hong Kong identity card.
For non-resident shareholders and directors:
Copy of International passport, overseas residential address proof.
When you have a holding company in Hong Kong, it will boost the business's image and make the task of raising your business capital easier. Whether you are a local entrepreneur or a foreigner, it is always advisable to hire a professional corporation that is well-versed with the local legislation. They will also help you to complete documents and handle ongoing compliance and regulatory requirements.
How Startupr help you?
Incorporating a holding company in Hong Kong offers numerous advantages to the business owners. If you are thinking about setting up a holding company in order for raising capital, holding shares, helping you manage your group companies or any other reason, Startupregistry would be a great choice to help you in the company formation process. We have years of experience setting up and managing thousands of companies in Hong Kong.
As well as starting your new HK holding company, Startupregistry can help you to register an office, manage your accounts to compile the rules and regulations set by the Inland Revenue Department, and navigate local tax laws.
And our unique software, Backoffice, helps you enjoy round-the-clock access to your company details and its filings. You can also enjoy fast company services through Startupregistry. Our pricing is transparent, and our approach is efficient, honest, and reliable. We do the work with an unwavering focus on client satisfaction to provide the best services possible. Contact us today!