If you have a successful startup and you are well-settled in a place, the next big thing you may want to do is scale up the startup. And if you want to scale up your business, then there could be no other place better than Hong Kong to expand your startup. Hong Kong is one of the best markets to grow your business as it has several factors favouring a startup.
Achieving success at a place could be more accessible, but achieving success after scaling up your startup can be challenging. To expand and grow your business, you must make a proper strategy to make it easier for you. Entrepreneurs must look at all the factors that could affect the expansion before scaling up their startup.
Another significant thing to consider before scaling up your startup is choosing the right location to expand the business. And if you are confused about location, then Hong Kong is the place you must select without any second thought. Business expansion in Hong Kong is comparatively more accessible than in other places. 
Hong Kong provides numerous benefits for startups, including easy funding, a favourable business environment, low tax rates and many more benefits. Now, we will be discussing further the importance of growth and expansion for startups and effective strategies for scaling up a startup in Hong Kong.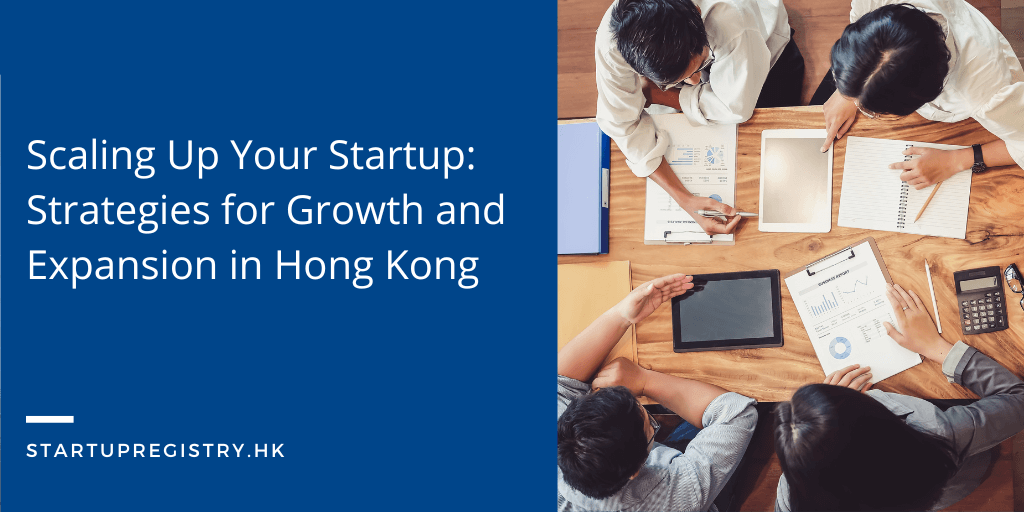 What is the Importance of Growth and Expansion for Startups?
The world is constantly unwinding, and with this growth, customers' tastes are also evolving regularly. So, being settled in only one place may not be cost effective for the startups, who may be required to expand their businesses to cash in on the market . The expansion of startups play a critical role in the growth of startups and provide them with a bigger picture of the market.
Expansion and growth help diversify the startup, creating a better customer base and establishing the startup stoutly. Additionally, they also help boost the revenue and profit of the startup and support to figure out the industry's requirements in a better way. Moreover, expansion and growth help to prepare the startups for any future downfall as you will have backups in the form of the expanded businesses.
Expanding the startup provides a wide range of customers, which can help create a customer base. As customers turn into reliable clients, the startup can experiment with new products to improve the product. The expansion also generates more revenue and profit than a single establishment.
Why is Hong Kong a Thriving Market for Scaling Startups?
Hong Kong is becoming one of the most prioritized places for scaling startups. And this is due to the benefits Hong Kong provides to the startups. Hong Kong has one of the best business environments in the world, which creates a healthy relationship between the business owner and the customer. Moreover, establishing and scaling up a startup in Hong Kong is easy. The factors that make Hong Kong a thriving market for scaling startups are as follows.
Strategic Location- Hong Kong is situated in the best place where a thriving market could exist. The location where Hong Kong is located keeps it many steps ahead of other markets. Hong Kong acts as a gateway to entering the Asian market, which helps to scale startups to grow and expand rapidly.
Easy Tax System- Hong Kong is where you can find the two basic requirements of an easy tax system, low tax rates and uncomplicated tax procedures. Hong Kong has one of the simplest and affordable tax systems in the world, which saves the valuable funds of a startup which could be used to expand and grow the business.
Government Support- Hong Kong has a highly supportive government for startups. The Hong Kong government has introduced many policies that help startups to expand and grow. Moreover, many initiatives are being taken by the government to increase funding for startups so that they can establish successful startups in Hong Kong.
Steady Banking System- Hong Kong is famous for its steady banking system all around the globe. Hong Kong provides startups with the best services and helps to manage their capital while the startup is scaling. The banking system also offers startups a base they can rely on when planning for a scale-up. Hong Kong has a robust legal system that gives a sense of security to the scaling up of startups.
To conclude, we can say that Hong Kong has the best business environment, stable banking system, extreme support from the government, an understandable tax system and a strategic location. Additionally, Hong Kong has one of the best talents in the world, which make Hong Kong a thriving market for scaling startups.
What are the best scaling tips for startups?
There are some points that you must keep in mind before scaling up your startup. Here are the best scaling, growth, and expansion tips for startups wanting to expand their business to a new level.
Assessing Readiness for Scaling
Many things need to be ready before scaling up a startup, and here is a brief note about the things that are required to be prepared for scaling.
Evaluating Product-Market Fit – It is essential to ensure that the product fits the market before scaling up. Evaluating the product also saves the capital that may get wasted on the wrong product after the scale-up. There are several methods to assess product-market fit. The first one is to introduce a prototype of your product and receive customer feedback. This will give you a clear view of your product which could be used to create an enhanced version. The next thing is to conduct market research. Market research provides you with knowledge of the current trend in the market and whether your product will survive. 
Assessing Financial Preparation – Another essential aspect of scaling up a startup is assessing financial preparation. Sufficient financial resources help your startup grow without the pressure of low funds. Cash flow assessment provides you with the knowledge of capital in and out of the company. Similarly, financial projections can help you judge future events that may affect your business. And finally, having adequate funding options allows you to focus on growing your business rather than being tense about the funds.
Building a Scalable Infrastructure – You must ensure that you have a scalable infrastructure. Having established scalable systems, processes, and technology infrastructure provides you with the advantage of the smooth functioning of the business. The importance of optimising operations, automation and scalability can be understood from the fact that optimising operations help you to be updated with the market situations, while automation enables you to be updated without any delay. On the other hand, scalability allows you to adapt to the current conditions.
Developing a Growth Strategy
Having a growth strategy helps the startup to scale up more efficiently. Some points to keep in mind while developing a growth strategy are as follows.
Market Expansion and Segmentation – The first thing is targeting customer segments. The strategy to enter a new market lies within the market. The techniques include market research, localisation, and adapting to local preferences.
Strategic Partnerships and Alliances – Forming strategic partnerships and alliances has several benefits to drive growth. Collaborations can help you to expand your reach, enter a new market with their help and leverage the resources. All these things will help to scale up your startup.
Product Diversification and Innovation – It is essential to continuously keep innovating your product and diversifying it while entering a new market. This could be done by developing a new product for a new market, making advancements in the features of the product and addressing the need of the customers and making a product according to those needs.
Talent Acquisition and Team Building 
Acquisition of talented people and building a productive team with them is another aspect of successfully scaling up your business.
Identifying Key Roles and Skills – Identifying the key roles and skills required for scaling up your business is highly significant as it saves you a lot of time. Also, hiring talented individuals who align with the company's vision and culture is a much-needed quality for scaling up the startup.
Building an Effective Team Culture – Fostering a positive and collaborative team culture is exceptionally important. When the team has a shared mindset, it can be more productive for the startup. Employee engagement and communication could be boosted if there is transparency, two-way communication and support among the employees. This will also help in professional development as an individual and a team.
Funding and Investment Options
Another thing which is required for scaling up a startup is funds. Here are the points to consider while looking for funding and investment.
Assessing Funding Needs – You must assess the number of funds which are required to scale up your business. This will give you an estimated amount to arrange for. Appropriate funding amounts can be calculated by preparing a budget and tracking the expenses. This will help you to determine the proper funding amount and the right time to invest in scaling up your startup.
Exploring Funding Sources – You can arrange funds from various sources, like venture capital, angel investors and government grants. These sources can provide the required funding for scaling up your startup. And this could be achieved by crafting a compelling pitch which will force the investors to invest in your startup. Moreover, building relationships with investors is highly significant as it increases the chances of getting investments.
Managing Risks and Challenges
There could be some risks and challenges in scaling up your startup. So, it is better to assess them earlier only.
Scalability and Operational Challenges – There are some common challenges while scaling up a startup, such as increased management. It becomes more complex to manage the operations after scaling up a startup. Scalability challenges can be overcome by process optimization and resource allocation. This will help you change a startup's processes according to scalability challenges and manage the resources effectively.
Regulatory and Compliance Considerations – Staying compliant with local regulations during the scaling process is exceptionally crucial. It may help you to complete the scaling procedures smoothly without any complaints. Also, legal and regulatory guidance is necessary to navigate Hong Kong's business landscape. Expert advice will provide you with legal information that could have been missed without the expert.
Need expert assistance in building your Hong Kong business? 
If you plan to establish a business in Hong Kong, then there couldn't be a better partner than Startupr. Startupr will provide expert assistance in building a company in Hong Kong with low prices and the best customer service. Startupr saves your valuable time, which may get wasted in the administrative procedures, as all these procedures are done by Startupr so that you can focus on growing your business. Startupr offers you the loftiest services available, which are second to none. So, if you have thought of starting a startup in Hong Kong, then Startupr is the platform you must choose.
Scaling up a startup is essential for a local or failing business. Before scaling up your startup, there are many factors to remember, including assessing the required items, growth planning, hiring talented individuals who work as a team, evaluating funding and investment options and managing risks and challenges. Also, if you are unsure about the location to scale up your startup, there is no better place than Hong Kong. Hong Kong can provide the best opportunities to grow and expand your startup. And if you want a safe and secure platform to perform these procedures, then Startupr is here to assist you. Startupr will provide you with the best possible services and help you to establish your business in Hong Kong quickly. Startupr is a highly efficient platform with thousands of satisfied customers and does all its work with quality and professionalism.