China and Hong Kong are among the most popular locations for entrepreneurs who aspire to enter the Chinese market. Undoubtedly, deciding where to incorporate is not easy and isn't a decision to take lightly. Hong Kong is the right choice, we believe. This article will elucidate why choosing Hong Kong is the best choice.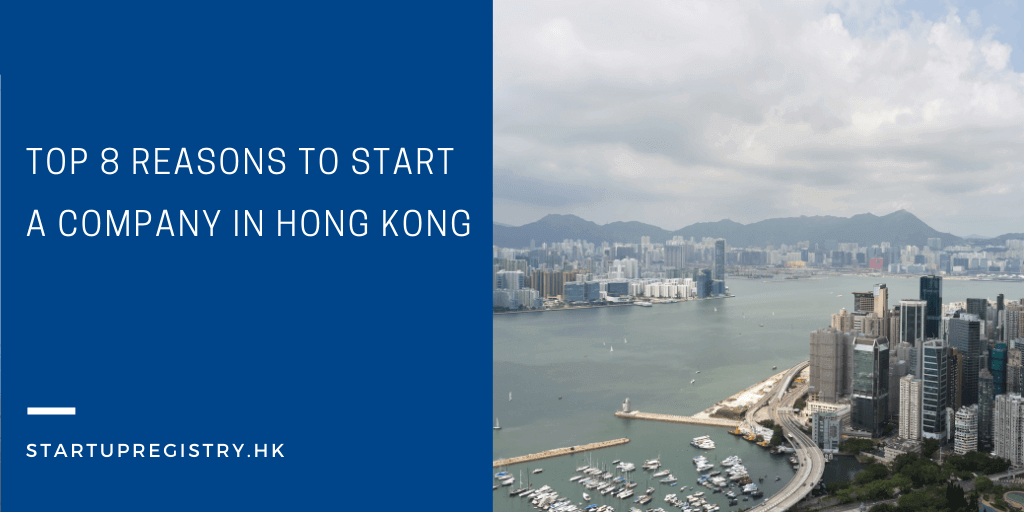 Start a Company in Hong Kong
With its excellent reputation for efficiency, Hong Kong maintains the title of the world's most liberal business economy, and Hong Kong is recognized as a perfect destination for entrepreneurs.
According to Hong Kong Companies Registry, the total number of local companies registered here reached 1,375,172 in 2021. There are several benefits of opening a company in Hong Kong, and you will learn more about them further in this article.
Hong Kong business environment
Hong Kong is a competitive platform in the Asia-Pacific region for numerous entrepreneurs. The business environment in Hong Kong is easy and liked by many entrepreneurs because of its tax benefits, Ease of Expansion, Ease of doing business, Free market, and multiple favorable policies. It draws many foreign company registrations and investments. Companies will also seek help from professionals in Hong Kong to handle the process of business registration, company incorporation, and ongoing company maintenance.
Is it a good idea to start a company in Hong Kong?
Ranking 6th on the World Economic Forum's Competitiveness Index, Hong Kong solidifies its claim as an esteemed global leader in finance. This is one place where businesses and companies can flourish. Operating a business is relatively easy, the cost of company registration is low, and the overall environment promotes businesses to thrive. The good part is that there are no restrictions on inbound or outbound investments. Not only this, there are no nationality restrictions on company ownership. Foreigners can easily invest in almost any company and own up to 100% of the equity. All this sounds like an easy business environment. However, if you are willing to start a business in Hong Kong, you must have enough reasons that support that. Below are eight reasons that confirm why you should consider starting a business in Hong Kong. Let us take a look at it.
8 Reasons to Start a Company in Hong Kong
Let us dive straight into the benefits you get in a Hong Kong company:
Strategic location – The first and foremost benefit is the location of the city. Hong Kong is strategically located at the heart of Asia, and hence, it is well-connected with the rest of the world. Hong Kong is also categorized as one of the prime destinations for businesses globally. The area enjoys proximity and easy access to the world's leading markets. Whether you wish to tap into the Asian Pacific market or Mainland Chinese, setting up a business in Hong Kong is the best.
Easy to set up your business – It is relatively quick and easy to set up a business in Hong Kong, and anyone who is keen enough to start a business can do so within two weeks. Additionally, the pro-business administration has made a company user-friendly to a level that the jurisdiction has also earned the top title for the "ease of doing business" rankings around the world. In Hong Kong, one can enjoy low corporate taxes and tax breaks. Moreover, the government runs several initiatives that support small and middle businesses. The jurisdiction in Hong Kong is uncompromising regarding intellectual property rights protection. Rules and regulations to start a firm in Hong Kong are simple. Furthermore, the total cost of setting up a business is relatively low compared to doing so elsewhere.
Tax benefits – A large number of foreign investors are tempted by the suitable tax system in Hong Kong. Hong Kong's business operating benefits from the territorial source principle. This benefits them from avoiding taxes on any profits made outside of Hong Kong and saving thousands of dollars. An overseas business does not need to incur many expenses, such as capital gains tax. On top of it, another advantage of setting up a business in Hong Kong is that there is no sales tax, VAT, or withholding tax on dividends on social security benefits. However, a Hong Kong-incorporated company shall pay a 16.5% profit tax for revenue and income earned within the jurisdiction. For income earned above HKD 120,000, 17% personal income tax is deducted.
Easy and fast incorporation – With the ease of business and tax benefits, Hong Kong also allows you easy and fast incorporation. Numerous investors are attracted to Hong Kong, which is clear. Hong Kong also offers fast and easy incorporation of your business as compared to other areas. Professionals such as Startupr help you incorporate your business by guiding you step by step and making it a smooth, hassle-free process.
Productive workforce – In case you run a business or are responsible for a team, you will make sure that it runs as smoothly as possible. One aspect that will increase productivity is the practical workforce. This will increase productivity levels and aid both your business and customers. It is simple, the more productive your staff members are, the more work they are getting done. Hence, you will see more benefits.
Full ownership for foreigners – A foreigner is qualified for 100% ownership rights of a company that is incorporated in Hong Kong. Also, this law does not impose local residency requirements and allows a foreigner to be the company's sole director and shareholder. In Hong Kong, a physical address is not necessary to work within the jurisdiction, which is beneficial for foreigners. Also, this liberty allows foreigners to operate businesses from anywhere they are located. All they need is a registered office address. Furthermore, companies can also open multi-currency accounts in banks. An off-shore company status is assigned to the company's director if they are not residents. In this case, you only need to pay the taxes on the profits generated within the jurisdiction of Hong Kong.
Free trade – Hong Kong pursues a free trade policy and therefore maintains no barriers to trade. There is no customs tariff on goods that are imported or exported from Hong Kong. Also, import and export licensing are kept to a minimum. A large number of products do not need a license to enter or leave Hong Kong. Where licenses or notifications are required, they are intended to meet obligations under diverse international undertakings or apply for public health, safety, or security reasons. The HKSAR Government Trade and Industry Department is responsible for conducting Hong Kong's external commercial relations, certification of origin, and import/export licensing for textiles, strategic commodities, and reserved commodities.
Access to China and Greater Bay Area – Prior to becoming a financial hub, it was recognized for its entrepot role. Connecting different Asia countries requires several hours of flight from Hong Kong. Combined with Hong Kong's free-market policies, local and multinational companies do not need to worry about anti-competitive practices, and they can freely extend business markets.
Want Expert Assistance in Starting a Hong Kong Company?
Now that you know all the key reasons to start a company in Hong Kong, you may be interested in choosing Hong Kong as your business location. Our advice is to choose a professional so that you avoid any kind of hassle. Startupr can assist you in registering your Hong Kong business and assist you to maintain your company in good standing. We provide many services that can help you. Contact us now for more information.