Once you have registered your business in Hong Kong, your work doesn't end here. Other than obtaining the required licenses and permits, you might also need to register other crucial things including your logo, which is also known as a trademark. The logo registration or trademark registration in Hong Kong is just as important as a business registration. 
A logo is used as a branding element for a company. People recognize brands through their logos. If you do not get your logo registered, some other company can also end up using the same logo or a similar one, which can, in turn, hurt your brand and the company's revenue. Let us go in-depth and understand why you need to register your logo, and how to apply for a trademark in Hong Kong.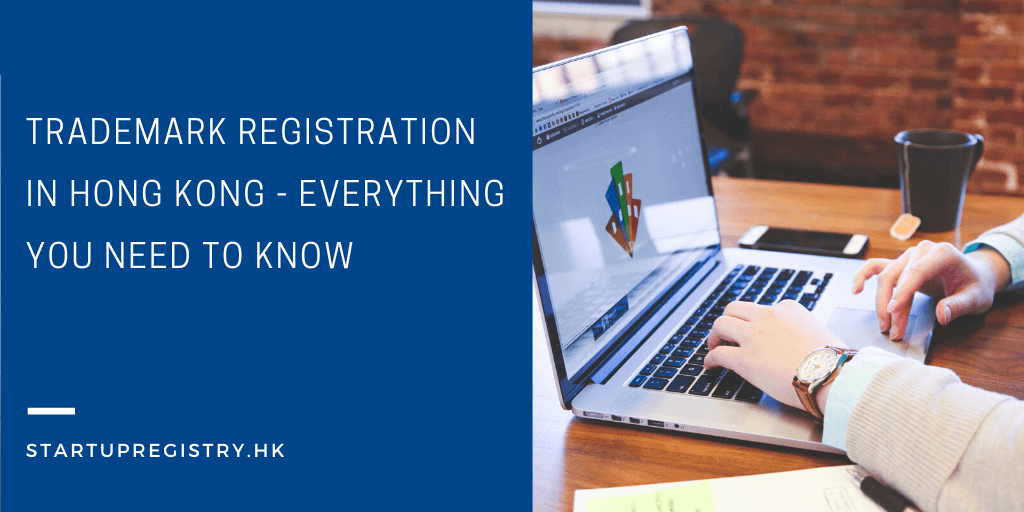 Trademark Registration in Hong Kong
Protection of intellectual property is considered to be very important all around the world. It is a basic right that every organization and person has. One of the main reasons why it exists is to make sure the right incentive is given to the owner for their creation. It also offers the creators due recognition and makes sure they get all the rewards that will come from it. 
What is a trademark?
A trademark is a sign that helps customers identify a company's services and products. It is an important part of any company since it differentiates it from its competitors. In simple words, a trademark sets a company's product or services apart from similar products and services in the market. It is the key to success for any business as it creates a unique brand image. 
Trademarks can be made of any content, including words, numerals, characters, letters, designs, indications, smells, sounds, colors, figurative elements, packaging of products, or even the shapes of the products. The sign should be something that can be represented graphically. That is when it will be considered, accepted, and registered as a trademark. 
Why is it important to register a trademark in Hong Kong?
There is no legal obligation to register a trademark in Hong Kong. However, it is advised to get it done since a registered trademark is considered an asset that is owned by someone. Being a registered trademark owner means that you are the only one who has the exclusive rights to use it as you wish. No one else can use a registered trademark for their own gain. It also gives you the power to defend your asset in court, in case anyone misuses it or uses a similar trademark. 
On the other hand, trademarks that are not registered, do not get any protection from the law. Although there is a common law action that covers an unregistered trademark, proving that the trademark is yours in court will be hard on you and your business. You will need to prove your reputation and goodwill towards the trademark. Additionally, you will also have to prove that the opposing person has misrepresented their products or services to be under your unregistered trademark. 
All this will drain your time, energy, and money. It can also affect your brand drastically. Going down this road can also mean that you lose the court case since the trademark was not registered. The best way to avoid all this is to register your trademark in Hong Kong before using it.
Some benefits of a registered trademark:
It will give you the power to take any legal action against counterfeiters.
It gives you a strong ground to oppose attempts by competitors to register a similar and confusing trademark.
It blocks others from registering any similar trademark.
You can lawfully use ® next to your trademark.
The trademark certificate will be proof that you own the mark.
It is considered an asset and can add a lot to your company's valuation.
It is essential for any export or global marketing plans that your business has.
What can be registered as a trademark?
A trademark can include all types of symbols, graphics, phrases, words, marks, signs, and other indications. You can also combine some of these together to make a distinctive trademark. Just note that regardless of what you decide to use, it needs to be unique. To help you out, here is a list of things that can be trademarked in Hong Kong:
Numerals
Monograms
Surnames
Signatures
Shapes of the goods or their packaging
Color combinations
Words combined with a color
A newly invented word
Image
Initials
3D shapes
Sounds, like jingles
A device or logo
A word or a phrase
It is also important to note that an idea cannot be trademarked. Only things that can be represented graphically can be trademarked.
How to register a trademark in Hong Kong?
Registering a trademark is not a requirement. Nevertheless, registering a trademark means that you own it. It becomes your asset that no one else can own. The process to register a trademark in Hong Kong is very simple. Here are the steps you to follow:
Step 1: Submitting your trademark application
To register a trademark in Hong Kong, the Forms T2 or T2A need to be filed with the Trade Marks Registry, Hong Kong Intellectual Property Department (IPD). The form can be filed physically or can be submitted online to the respective department. Once you have submitted the application along with the fee of HK$2,000, you will receive a receipt with the allotted application number. 
Step 2: Deficiencies Checking
The IPD will coordinate with you to check any required information before moving ahead. You might have to make some minor amendments as well, which will not affect the filing date of the application.
Some points to keep in mind before the trademark registration in Hong Kong to avoid additional amendments:
It should be distinctive. You can use everyday words or invented words that are not associated with your products or services as well. It just has to be different from every other registered trademark.
The trademark should not have any description of your service or goods. It should not use a geographical name or mention the value of the goods. For instance, things that will not be accepted include – New York Handbags, New and Fresh.
The trademark should not be a well-known term in your company's industry, else it will be rejected.  
Check if the trademark is not similar to any other trademark already registered. You can file Form T1 and opt for the Search and Preliminary Advice Services where the government can help you research to see if there are any similar trademarks or not. You can also conduct a search online on your own.
Step 3: Search and Examination
Once you have submitted your trademark registration application, it will be examined by the Trade Marks Registry. It will be assessed to see if it complies with the Trade Marks Rules (Cap. 559A) and the Trade Marks Ordinance (Cap. 559). They will review it to make sure that the trademark you are trying to register is not similar or identical to a trademark that has already been registered.   
Kindly note that only minor errors can be entertained once you file for the trademark registration in Hong Kong. If another company has already submitted an application before you to register a trademark that is confusingly similar or identical to your trademark, it will get rejected. Moreover, if the trademark is already in use, it will get rejected as well.
In such cases, you can restart the process and create another trademark for your business. However, you will have to submit a new application for its registration. This can slow down the process for you. Hence, it is advised to use Form T1 before submitting your application so that you can be sure that the trademark is eligible for registration.
Step 4: Publication of Hong Kong trademark
As soon as your trademark is accepted by the IPD for registration, the officials will publish it in the Hong Kong Intellectual Property Journal. The idea behind this is that if there is anyone who wants to oppose your trademark from being registered, they can do that during this step. For instance, if a company feels that the trademark is similar to theirs, or if the trademark hurts a group's sentiments, it can be opposed. And the matter will be reviewed by a hearing officer. 
Step 5: Registration 
If there is no opposition, or the person who opposed initially withdraws their objection, the trademark is then registered. Once the trademark is registered, the applicant will be given a certificate of registration for the trademark that will officially mark its registration.
Startupr can help you in handling the overall trademark registration process in Hong Kong. With our assistance, you can focus on other important things. You just need to share the trademark you want to register and the fee. The rest will be taken care of. Contact us to know more!  
FAQ on Trademark Filing in Hong Kong
Additional common questions to help you clear any doubts and queries you have regarding trademark registration in Hong Kong.
1. How much does it cost to register a trademark in Hong Kong?
The application fee to register a trademark in Hong Kong is HK$2,000. However, you will have to pay an additional cost of HK$1,000 per additional class of services or goods, if there are any.
2. What are trademark classes? 
Trademark classes refer to the types of goods and services you wish to register. Each type has a class. You need to select the classes in the application that your goods and services fall under and pay the fee accordingly. Hong Kong follows the classification set by the World Intellectual Property Organization (WIPO). There are about 45 Classes.  
3. What are the documents required for registering a trademark in Hong Kong? 
The documents for registration of a trademark in Hong Kong include:
4. How long does the trademark registration process take?
It usually takes about 4 to 8 months for a trademark to be registered once the application has been submitted. However, if there are any objections during the publication step or if any amendments are needed, the process can take up to 12 months to complete. So, plan accordingly.
5. When should I renew my trademark in Hong Kong? 
The trademark registration is valid for 10 years from the day of its registration. You will need to apply to renew the registration 6 months before the validity expires. If you get late, you might have to stop using the trademark for a while and can even lose it to some other company. 
6. What are some important things to consider when applying for trademark registration in Hong Kong?
Some of the things that you need to consider before you register a trademark in Hong Kong are:
The trademark should not be similar or identical to any other company's trademark that offers the same goods and services.
It should distinguish the services and goods offered by the company from any other traders.
It should not be a generic term in that industry.
7. Do Hong Kong trademarks cover China?
Every country and jurisdiction is different and has different laws. The protection of a trademark that is registered in Hong Kong doesn't extend to China, and vice-versa. So, if you want to register your trademark in China or claim your trademark in the whole world, you will have to file the registration of the trademark in those countries. 
Want to register your trademark in Hong Kong? 
If you have had a designer prepare a logo for your company or are planning to get a logo soon, remember to have it registered too. Registering your business is different from a trademark registration in Hong Kong. You need both to run a business and build a brand. Startupr can help you with filing the application to register your trademark in Hong Kong. In addition to this, we also offer business registration, mail forwarding, accounting, and bookkeeping services. Contact now!