In recent years, Hong Kong has experienced an instantaneous increase in the startup industry. With this increase in the number of startups, investment demand is also increasing. A constant tussle between all the startups is going on to attract investors to their startups. If you want to attract investors, then you will have to be clever. There are specific steps which you are required to follow to successfully attract investors to startups in Hong Kong. So, if you want to get a competitive edge and detailed knowledge of these steps, then keep reading.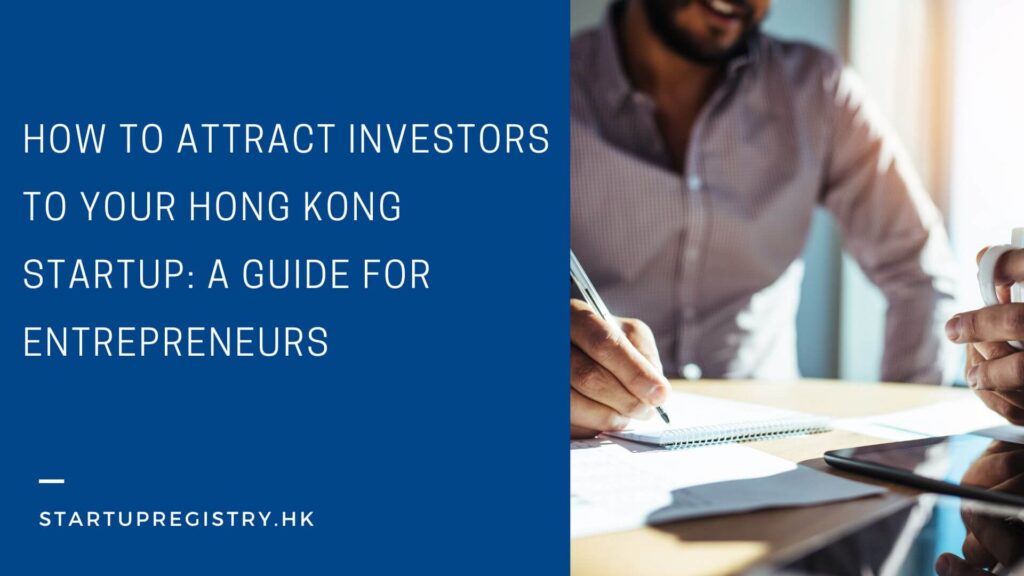 Investors for Startup Success
Investors are an integral part of startups and provide initial support to them.
Importance of Securing Investors for Startup Success – Securing investors for the success of a startup is extremely important. Investors facilitate the startup with one of the most required things, which is capital. The experience and network they bring to the startup give you a competitive advantage in the market. Also, if you have well-known and trusted investors, it is more likely that the customers may believe in your products and services easily.
Overview of Hong Kong's Vibrant Startup Ecosystem – Hong Kong has one of the most dynamic markets in the world, with ample opportunities for budding startups. The strategic location of Hong Kong and the initiatives taken by the government make it an ideal place to set up your startup. Being a financial hub, getting funding for Hong Kong startups has become very easy. Moreover, networking events and co-working spaces make a productive environment for startups and help them to grow.
Understanding Investor Landscape in Hong Kong
Choosing the right investor plays a vital role in the success of a startup. There are several types of investors and several tips to find them. Both items are further discussed below.
Overview of Investor Types: Angel Investors, Venture Capitalists – Startup investors are of multiple types and are categorized according to the time at which they invest. The first ones are the seed accelerators who provide the initial funding to the startup. Later investments are made by angel investors. These are individuals with high net worth who invest in the early stages of the startups in exchange for equity. Venture capitalists invest in a startup which at least has a customer base for the products and services of the startup.
Identifying Investor Preferences and Investment Criteria – Identifying investor preferences and investment criteria allows you to better understand what the investor wants. Identifying investor preferences gives you an overview of the mindset of the investor, which helps in upgrading and modifying the business. Investor preferences can be identified by taking interviews and surveys and by asking business-relevant questions to compile the information. These questions also help in determining investment criteria and parameters an investor is looking for in a startup and might invest in it.
Researching and Networking to find Potential Investors – Research and networking play a critical role in finding potential investors. All the available resources must be used to get information about the investors or the networking events and seminars which the investors might attend. For instance, if you get a chance to meet the investors, be ready with a solid pitch highlighting the benefits of investing in your startup.
Showcasing Your Hong Kong Startup's Potential
The next step includes showcasing the advantages and potential of your Hong Kong startup.
Highlighting Hong Kong's Strategic Advantages for Investors – The first thing you must do to showcase the potential of your Hong Kong startup is to highlight the strategic advantages of Hong Kong for investors. Hong Kong delivers numerous strategic benefits, including its location, steady political atmosphere, business-friendly environment, global trade opportunities, connectivity, productive workforce and many more.
Emphasizing the City's Robust Infrastructure and Support Ecosystem – You must emphasize Hong Kong's robust infrastructure and comprehensive support ecosystem to impress potential investors. Hong has a highly modern infrastructure and functional connectivity, and financial services. Moreover, the support from the government and research opportunities make Hong Kong a perfect investment place for startups.
Demonstrating Market Demand and Growth Potential in Hong Kong – Lastly, the demonstration of market demand and growth potential for your startup in Hong Kong can help you gain the interest of the investors. Highlight the evolving startup ecosystem, government support, funding opportunities in Hong Kong and why your startup has a competitive edge over other startups and how your startup is likely to grow. 
Preparing Your Startup for Investor Attraction
Further, you are required to prepare your startup in such a way that it attracts investors.
Crafting a Compelling Business Plan and Pitch Deck – You must construct a compelling business plan which forces the investors to believe in your startup and invest in it. A to-the-point presentation of the products and services and business goals should be fabricated, which consist of all the information related to your startup.
Demonstrating Market Opportunity and Competitive Advantage – Demonstrate the market opportunities for your startup by appropriately defining your target audience, the market research you have conducted and how your product will fill the gaps in the market. Also, demonstrate the competitive advantage of your startup, which includes your USP, distribution strategy or any patent which gives a competitive advantage over others.
Developing a Scalable Business Model and Growth Strategy – In addition to all these points, the one thing you must do is develop a scalable business model and an effective growth strategy. A scalable business model allows your startup to adapt to the changes and make strategies according to them. Also, an effective growth strategy lures investors to invest in your startup. 
Building a Strong Online Presence
After taking care of all the above points, the next step you must focus on is building a strong online presence.
Importance of A Professional Website and Online Branding – Having a professional website and online branding is highly significant as it is the first place of interaction with your customer. So, your website should contain everything about your startup. Online branding helps in circulating the benefits of your products efficiently among customers.
Leveraging Social Media and Content Marketing for Visibility – Social media and content marketing are highly profitable for your startup and help in increasing visibility and promoting your startup. Social media platforms are a great source of cheap advertisement, which assists you in spreading your product to a mass audience.
Showcasing Success Stories and Customer Testimonials – Upload success stories and achievements of your startup on your professional website and social media platforms. Success stories create a positive image of the startup. Post customer testimonials to make your startup treatable for both customers and investors. 
Engaging in Effective Networking
Engaging in effective networking plays a crucial role in getting investors into your company.
Participating in Startup Events, Conferences, and Pitch Competitions – Participating in startup events, conferences, and pitch competitions has several benefits as it helps in bringing entrepreneurs together, building connections and partnership opportunities among them. It also helps in interacting with potential investors.
Building Relationships with Local Accelerators and Incubators – Building relationships with local accelerators and incubators helps you in getting the initial investments which are much needed for a startup. They also assist in catching up with the competitors with their knowledge of the local market.
Utilizing Industry Connections and Referrals to Reach Investors – You must utilize your industry connections and referrals to reach investors. Investors might get ready to meet you or even become partners with you if someone refers your startup to them. So, industry connections can be very helpful in getting investors.
Understanding Due Diligence and Investor Expectations
You must examine all the points of a contract before signing a deal. Understanding due diligence provides you with an overview of what the investor might expect from your startup.
Negotiating Deal Terms and Funding Arrangements – If you want to successfully get what you want from an investor, then you might need to do some negotiations. Negotiating deal terms and funding arrangements can create a win-win situation for both parties, and both can benefit from it.
Complying with Legal and Regulatory Requirements in Hong Kong – Your startup must comply with legal and regulatory requirements in Hong Kong. It is less likely for your startup to get into trouble if you follow all the rules and regulations and work according to the law. You must comply with all the regulatory requirements to avoid any legal charges on your startup.
Showcasing Your Team's Capabilities
To gain the confidence of the investors, you might showcase your team's capabilities. Pinpoint the specific members and their expertise to show the advantages of your startup. Highlighting key members and their expertise gives a positive outlook to your startup, which helps in acquiring the interest of the investors. Presenting an expert team and their unique skills can lead to successful collaborations. 
Emphasizing Investor Returns and Exit Strategies 
The final step to attracting investors to your startup is emphasizing investor returns and exit strategies.
Communicating Potential ROI and Investor Exit Opportunities – Communicating potential ROI and exit opportunities for the investors might create chances of getting investments for your startup. Informing them of growth strategies and potential returns can effectively attract them. Exit opportunities also have a significant impact on investments, so it is wise to clarify all the exit opportunities to the investors.
Presenting a Clear Plan for Investor Liquidity – It is very vital to present a clear plan of liquidity to the investors. A clear plan of liquidity helps the investors easily believe in your startup. You must nourish all the benefits of your startup, its growth plan and how the investors can get a profitable return from the startup.
Highlighting Successful Exit Stories in the Hong Kong Market – Finally, you are required to highlight successful exit stories in the Hong Kong market to the investors. These exit stories indicate that Hong Kong has a vibrant market with ample growth opportunities and how easily you can achieve success in an industry and then leave it behind. 
How Can Startupr Help Kickstart Your Entrepreneurial Journey in Hong Kong?
It is highly significant to attract investors to Hong Kong startups as they provide the startups with one of the most important things, which is funds. Hong Kong startup investors can help you understand the local market and its opportunities. They can help you in building an effective network which can eventually lead to chances for collaborations. Investors provide venture capital to Hong Kong startups which they can utilize in setting up and growing their businesses. So, to get funding for Hong Kong startups, you are required to follow the steps which are explained in detail in this article. 
If you want to kickstart your entrepreneurial journey in Hong Kong, then Startupr is the best partner you can ask for. Startupr provides various specialized services to entrepreneurs, including company incorporation, providing a Hong Kong company secretary, filling annual return forms, obtaining an office address, mail forwarding, bookkeeping and accounting and many more services.